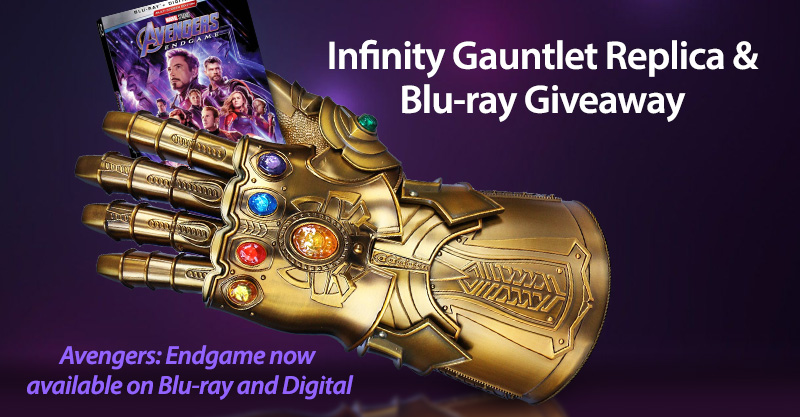 Celebrating the Blu-ray and Digital release of Avengers: Endgame, Disney has sponsored this post.
---

At the end of this post you'll see details for winning an Infinity Gauntlet movie prop replica ($300 value) and, now available for purchase on Blu-ray and Digital, you'll also win a copy of Avengers: Endgame! (Skip to it)
---

We all have our favorite moments in great movies, whether they're pivotal character or plot developments, or just really really cool scenes and great lines.
The entire MCU 22-movie saga (click for chart) is loaded with these moments, and Avengers: Endgame is bursting with them.
If you don't have Endgame moments where you clench your jaw or grip your seat, or laugh, or tear up, you should probably check yourself for a pulse. I have at least a dozen points where I tear up or whisper "yeeeesssss!" Let's have a look at some!

Spotlight on Endgame Moments
Here are three moments for each of the original 6 Avengers. The first pictures are safe, the second is spoilery, and the third is incredibly spoilery!
Click the right side to see the next image.
Captain America Moments
Hawkeye Moments
Thor Moments
Black Widow Moments
Hulk Moments
Iron Man Moments
Aside from being an incredible movie by itself, Avengers: Endgame is a brilliant love letter to the entire saga of 22 movies, culminate in the cinematic grand finale of all finales. Get it today on Blu-ray, Digital and 4K… OR WIN IT BELOW!
ENTER TO WIN!
(Ends Aug. 30)
You could win a hand-made Infinity Gauntlet metal movie prop replica, with LED light-up Infinity Stones that magnetically snap in! You'll also get a Blu-ray and Digital copy of Avengers: Endgame clutched in its fist!
To enter, just use your Facebook or email to begin (U.S. residents), then click on the button at the bottom, which will take you to the Facebook post where you'll need to like, comment your favorite Avenger, and share the post on your Facebook.
Avengers fans, ASSEMBLE! Good luck!