Worrying about our kids is practically encoded in us. Some of us worry more than others, but there's always something that nags at any parent. Even if it's not logical. Like what if our kids chose Kanye West as their ultimate hero? The stuff of nightmares.
Well, today, we're doing something we've never done before. We've partnered up with Kinsa Health to make it easier to care for our little bundles of fun. With one less worry.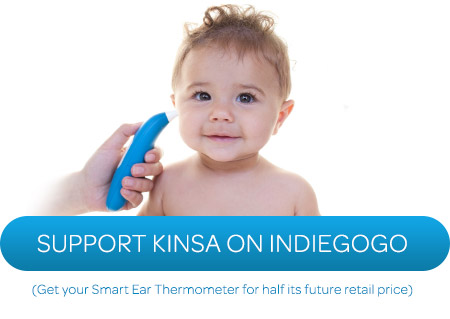 We worry so much because we care SO MUCH. No matter how much you worry or how well you handle it, wouldn't it be nice to have just one less thing to worry about?
We're helping Kinsa launch their IndieGoGo campaign so you can get their newest Smart Ear Thermometer (for half its future retail price) because when your kid is sick, an instant and accurate temperature is the only parenting hack worth knowing.

Sharing Is Caring
Giveaway
We want to help you de-stress your parenting lives with some goodies, too. By simply helping us spread the word about Kinsa's IndieGoGo campaign.
Premium Ultra Prize

Disaster/Zombie Survival Kit ($240 value)
Kinsa Smart Ear Thermometer ($60 value) available in November
Kinsa Smart Stick Thermometer ($30 value)
Parental Sanity Prizes (3)

Fandango theater gift card ($50 value)
BevMo (wink wink) gift card ($25 value)
Kinsa Smart Ear Thermometer ($60 value) available in November
Kinsa Smart Stick Thermometer ($30 value)