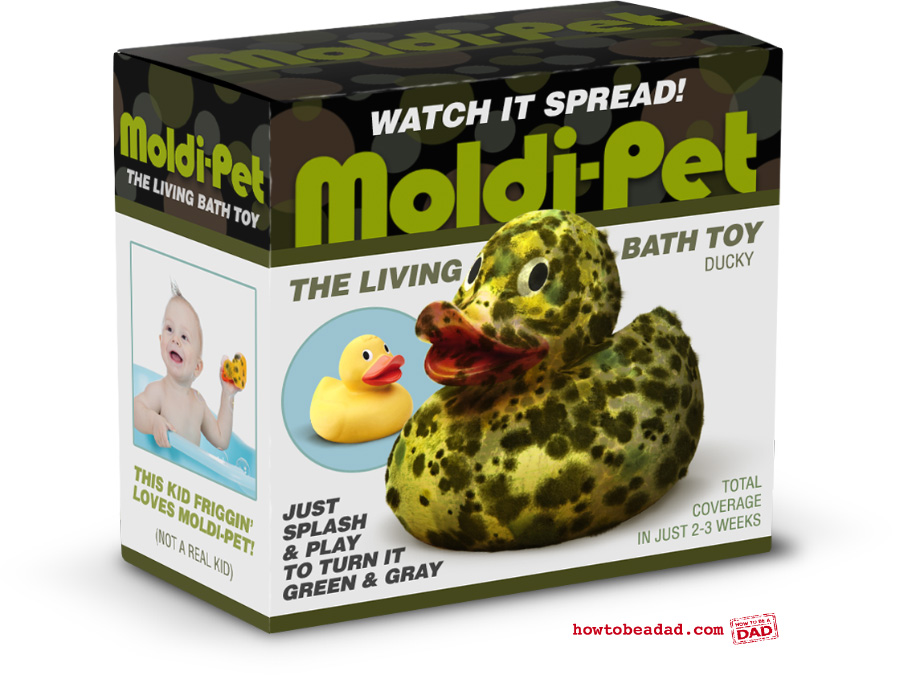 Some kids like to take baths, some absolutely DO NOT, but ALL kids can agree on playing! They love it. Until they get bored of it, of course.
Now you can have a tub toy that changes with your child's fleeting interest: Moldi-Pet, forming fuzzy spots and furry freckles before your very eyes. Mold is the Jackson Pollack of nature, so basically Moldi-Pet is also like an art lesson, a science project and splish-splash FUN, all in one!
Simply apply the patent-pending, recently inconclusively-investigated Moldi growth formula over the bath tub toy that came with your Moldi-Pet kit (Ducky, Shark, Narwhal, or Moldmaid) or slather it over any burned-out bath toy, and turn an oldie into a Moldi!
Stimulating patterns and soothing earth tones will… stimulate and sooth your child as he grows. Moldi-Pet can be reused over and over and over, and each one comes out different! So, liven up bath time for your bored little bather.
Look at the kid on the side of the box! He looks like he's bonkers for this thing. And mold is organic, right?
–
More Bad Product Ideas
Thongies Diaper Thongs
The super mega fierce diaper.
Baby Hjölster
The baby carrier for manly men.
Tranquoo Child Anti-Wakefulness System
Yep. A tranquilizer gun. See for yourself.
See All the Bad Product Ideas
If these aren't enough, dive in and check out all of the HowToBeADad.com bad product ideas.