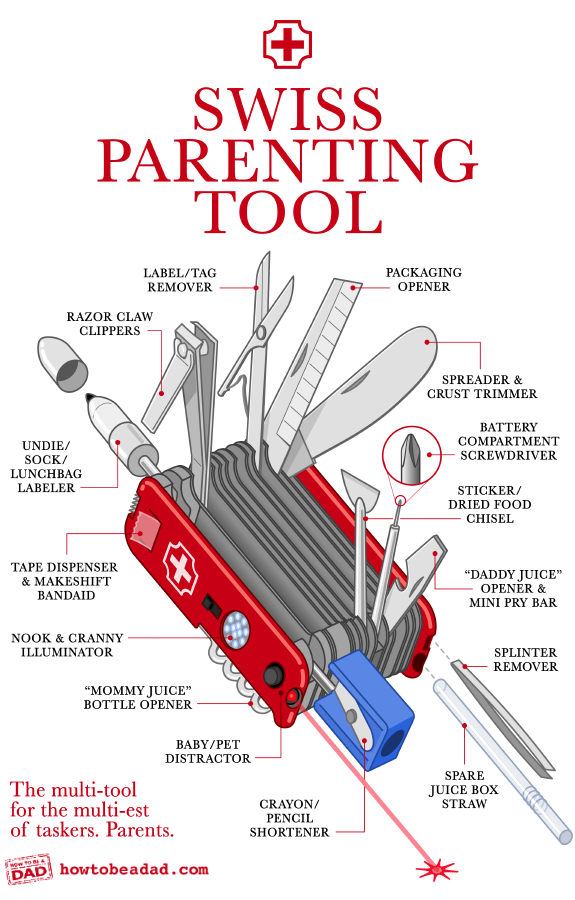 Be prepared is the Boy Scouts' motto. And, though this applies well to parenting, the Boy Scout handbook doesn't have a lot to say about having a baby, but, like the wilds of Nature, when the test of your survival fitness begins, Parenthood doesn't care how prepared you are.
Nature doesn't forgive you for not knowing how to tell North by which side a tree's mossy pubic hair grows on. Parenthood doesn't give a shit if you don't know which way the tabs go on a diaper. Actually it does… a really really messy shit.
In parenting, a tip like "leave no trace" can become trying to keep at least some part of the floor visible, and the good sense of "travel light" can become a prompt to buy a bigger stroller, but they're still survival points.
New moms and dads will be presented with many unexpected challenges they must conquer. Overcoming anti-theft restraints on toys, finding lost car keys in the dark recesses of the couch, scraping boogers off the wall before guests arrive, etc. A parent needs tools to survive. The Swiss Parenting Tool, for instance. Even if you don't have much of a clue starting out, at least you'd have the right tool for the right job.
Sadly, like full preparedness for parenthood, The Swiss Parenting Tool doesn't really exist. One can always dream though, right?
–
Follow us on Facebook. We won't ask you to multi-task.
Instructional Diagrams
Sit back, relax and let us take care of the laughs.