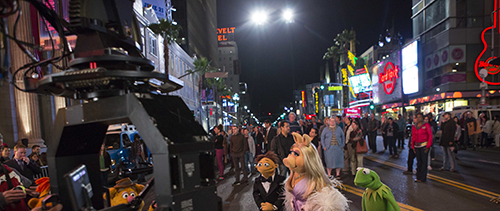 During my visit to the set of Muppets Most Wanted, the upcoming installment to the decades-long movie franchise, I got to witness some filming on a completely closed Hollywood Blvd. Though I've seen many film productions, it's still great fun to witness, especially when it involves characters that played such an integral part of my childhood. And I also learned something: Muppets laugh, they cry, they aspire, they hope. Aside from some specific care instructions when dealing with stains, Muppets are just like us.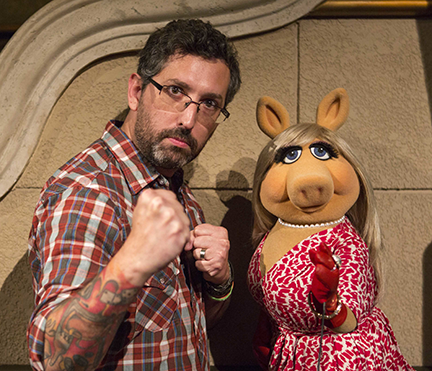 While on set, I joined a very small handful of people who got to interview Kermit, Miss Piggy and Walter (and some of the human filmmakers) about the movie and just what it means to be a Muppet. When it comes to wants and desires, for example, Miss Piggy makes no secret about her affection for Kermit. But, she also enjoys the glamor of travel and felt real disappointment when she realized just how the production planned to cover the geographical locations in the film.
She said, "This movie was going to take us all across Europe, to Paris, to Madrid, to Germany. I didn't see anything outside of London."
Muppets Most Wanted picks up almost immediately where 2011's The Muppets left off. This time, Kermit and the gang must contend with an international caper as the villainous Constantine—Kermit's doppelgänger—embarks on a crime spree, which wreaks havoc on the Muppets' global tour.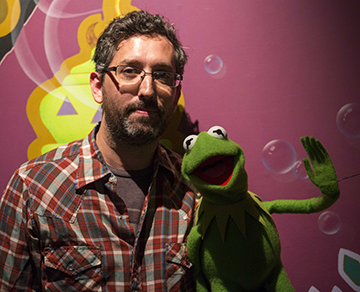 Kermit discussed how the role and his costars allowed him to stretch as an actor. "It's a very dramatic part for me to play, you know, uh, being a prisoner in prison," he said. "Of course the warden there, the chief warden is, is Nadia played by Tina Fey and, uh, yeah, I had big fun with her."
Walter, too, enjoyed working with the guest stars, especially Ricky Gervais. "He plays this great character who's really two-faced and, you know, completely charming, but sinister," he said. "Yeah, so Ricky was a lot of fun, yeah, and he's always cutting up with us between takes." Though, Walter did confess that working with the comedian had limits. He said, "He was really fun. Then, around four o'clock, the laughter died."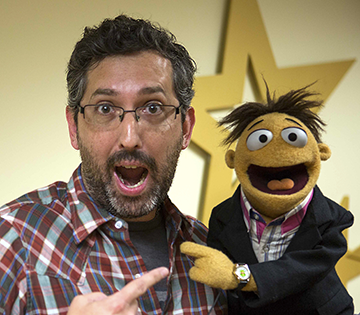 Gervais and Fey join other stars such as Ty Burrell, Danny Trejo, Tom Hiddleston, Celine Dion, Salma Hayek, P Diddy, Christoph Waltz and Ross Lynch to help bring the story to life. Celebrities are great, sure. But, I found myself in awe of the Muppet cast, just as I did as a child.
It's a sentiment I share with producer Todd Lieberman. As a fan, he made sure the film feels familiar without repeating an exact formula. "I mean we really wanted to honor what those early movies felt like and, you know, it's a great blend of fun, mayhem, craziness, at the same time, an emotional core of emotion and family. And so that was the balance that we wanted in [The Muppets] and there's, you know, there's going to be a similar balance in this one."
As our interviews wound to a close and we were ushered onto Hollywood Blvd. to watch them shoot, I marveled at how easy the Muppets were to talk to, how welcoming and warm they were—how talking to them was like talking to an old friend. I guess that's because they are old friends.
And like old friends do, let me leave you with one piece of sage advice Kermit offered as we discussed his storied career, the film and what comes next. He said, "Never go to countries where they are an appetizer on the menu. Very important."
Muppets Most Wanted hits theaters March 21, 2014.  In the meantime, you can like the Muppets on Facebook and follow them on Twitter.