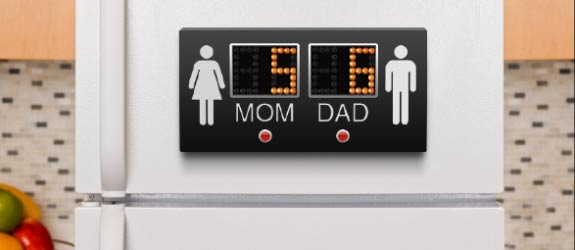 … telling me to do the dishes and housework.
It is written that the Olympics actually began in an ancient Greek household. A man and wife had just birthed a young Greek named Nagmeon. Within a fortnight, the two were screaming at each other over who had changed more grape leaf diapers than the other, who prepared a greater quantity of goat's milk formula and who had been visited by Morpheus more often (slept). Thus began a competition that would last nearly 3000 years.
Okay, so that's all bullshit, but you get the idea.
GAME OF THRONES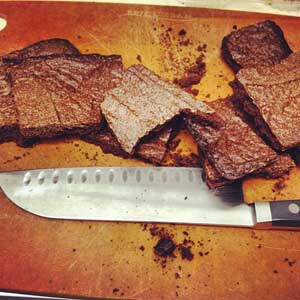 Is this steak or brownies? You decide.
New parents and married couples deal with this game of games. You know the one I'm referring to: the fun competition of comparing who does more crap around the house. It's a never ending story of rivalry and sulking. It blows.
Often, the mental weightlifting required to keep up with our daily duties, not to mention navigating each others' personality quirks, demands more than we have to spare. It's hard to keep track of it all, but you know once you start counting the number of times you've changed a diaper or got up in the middle of the night or made a bottle or washed the bottles or took out the diaper pail or… it's a free fall plummet into blame. Not that I've ever done that.
WHERE IT GETS INTERESTING
This week my wife and I realized we hadn't really figured out "who" does "what" around the house. You'd think we wouldn't need to write down job descriptions or might've already done it implicitly, but that is exactly what we are doing. It's necessary now. What are our job requirements? What, precisely, is the division of labor in this mini-group?
The advent of feminism and a strong desire on the part of manpeople to be more hands-on at home has sort of left the household organization chart in disarray. The staid, traditional route found itself in the crosshairs of a sociological executioner in the 1960's. Some still argue there was a sense of orderliness and guidelines to it, false and repressive though it may have been.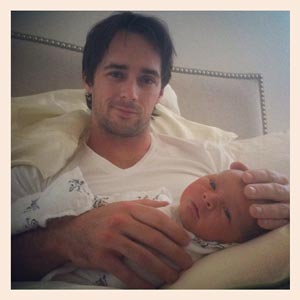 The early days were a blur of liquids, gases and solids.
Before you start unsheathing the castration scissors for thinking I'm implying all women should be stay-at-home moms, go breathe into a bag for a minute while I explain further… Let me point out that I was raised by a single mother. She was "mom" and "dad" essentially. The concept of a stay-at-home-mother is more or less foreign to me. My father appeared on a local television show when I was just one or two years of age, illustrating his life as a stay-at-home dad. It was a bit of circus act show but had a lot of heart. Later, he hit the metaphorical eject button. I dedicated myself to exploring what masculinity was for me, in various ways. Traditional household, we did not have. But this isn't about gender roles. It's about what needs to get done, who can best fulfill those requirements.
And most people I've talked to don't do this organization. They either feel no need or they're content letting their festering grapes turn into a sour juice, I guess. For my wife and I, we noticed how uncoordinated we were with all the stress in our lives. If we're going to be battling, we may as well be working together in the foxhole, right? Not playing 'hot potato' with the incoming grenades.
I wonder how many women want to be stay-at-homers, nowadays. It's not an easy job. Seriously, you don't even need to be kitsch and add up the theoretical salary as evidence to prove it's a superhuman job. To be fair, I can't breastfeed, I can't plan our lives and I can't really hang photos that well. She can't… well… whine about things as well as I do. Um, yeah. So, she belongs in the kitchen. Telling me what to do, I guess.
Seriously, who does what around the house in your home?
–
Funny Pictures
Because funny pictures are funnier than writing, right?! Write?
Follow us on Facebook. Facebook isn't brownies or steak, but we'll make it seem like both.