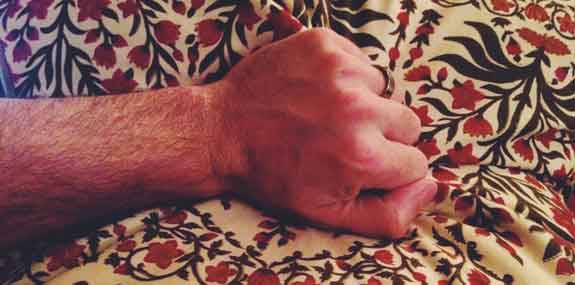 Pregnancy is a sensitive time.
A couple can fall even more deeply in love during the experience and yet there are factors that often come between the two people. There can be a profound closeness as well as an intense loneliness. Mistakes can be made in the spaces, those absences. Painful. Mistakes.
Today, I'm here to confess and let you in. I made a mistake.
And beyond all that, beyond all the apologies and regret I could regale you with, there is only one thing you need to know: Enjoyment in the moment isn't always enjoyment in the long run.
I had an impulse and I made the wrong choice.
Some have said that to err is to be human. They may have been talking about the spouse or significant other of a pregnant woman. I have erred. For the past month I was intimate while my wife wasn't around. You may have seen her post on Instagram. It's all true.
I stole her pregnancy pillow.
And we slept together. Intimate, snuggling relations. I know it's not my pillow, and to be honest, I used to sleep with her last pregnancy pillowy friend back in 2009. I thought I had changed but I was overcome. We shared a closeness that my wife used to share with me. To make matters worse when Avara found out about my tryst with her pregnancy pillow, I really screwed up and asked about an open marriage with the pillow.
That was a bad idea.
I'm hoping that being this forthcoming about my mistakes with Avara's pregnancy pillow will help others. Don't steal your pregnant wive's or girlfriend's pregnancy pillow. Seriously. You'll be in the dog house.
Don't fall victim to the seductive powers of your partner's pregnancy pillow. You may never live it down.