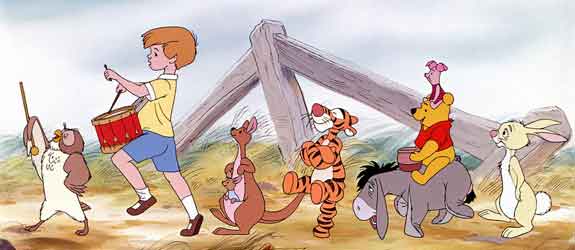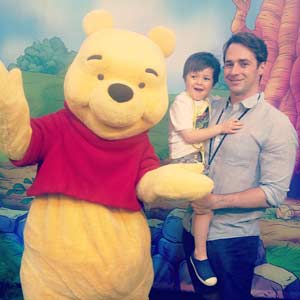 Tomorrow, we're celebrating Winnie the Pooh and his adventures. We got to meet the bloke at Disney World this year, so Finn and I are kind of obsessed with him. Winnie is the Pooh, man.
We are teaming up with Walt Disney Studios Home Entertainment, Mr. The Pooh, and Twitter Party Hostess with the mostest, Amy of Resourceful Mommy, to help launch Disney's The Many Adventures of Winnie the Pooh. Amy also bears a slight resemblance to Tigger, no? Tiggress?
Pooh and I go way back. I used think I was Christopher Robin and reenacted whole sections of Pooh's adventures with my toys. A few years before my son was born, my wife and I visited Ashdown Forest in the UK. I felt at home amongst the leaves and wet soil of the crowded, tree-filled terrain. Fast forward to today. My son and I watch Winnie a few times a month. I still remember the windy roads and the mists.
Your Formal Twitter Party Invite
When: Tuesday, August 27th from 8:00 to 9:00 p.m. ET/5:00 to 6:00 p.m. PT
Where: Follow the hashtag #PoohsAdventures on Twitter
How: To participate, follow the party tag #PoohsAdventures during the hour. When you chat with us, make sure to use the hashtag. Make sure you also follow us (@howtobeadad), Resourceful Mommy (@ResourcefulMom)
PRIZES: We will be giving away during the party:
THIRTY (30) winners will each receive a copy of The Many Adventures of Winnie the Pooh Blu-Ray/DVD Combo Pack!
To RSVP, click HERE to let us know you're coming to our party! This giveaway is open to U.S. residents 18 years or older.
–
Follow us on Facebook. Dirty, dirty Facebook. Needs some Clorox.
Disclosure: We joined forces with Walt Disney Studios Home Entertainment for to bring you this sponsored message. They are providing prizes and compensating us for the work, but honestly, we like talking about funny family moments. So, win/win.