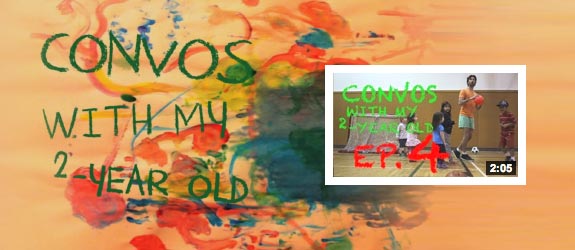 Every parent has to do it. Do the check. It really should be a proper noun: The Check.
It's doesn't refer to making a payment, though. Unless the money is poop and your kids has made a deposit in the Bank of Diaper. We as parents have to make sure our kids aren't waltzing around with a large sum in their pants, whatever the signs are: a vague or not-so-vague whiff, a look of intense philosophizing, or that it's just plain ol' been too long, especially if fruit was involved.
Here's the fourth Convos With My 2 Year Old episode. Don't worry. This is both safe for work, and safe for eating lunch.
Subscribe to ConvosWith2YrOld to follow the series. (Liking, favoriting and commenting help videos on YouTube, so go nuts.)
Watch all the episodes over and over and over again like we do.
–
Follow us on Facebook. The best way to stay connected to our brand of madness.
See All the Convos With My 2yo Episodes
One is never enough.
Poopology
More on poop. LOTS more.