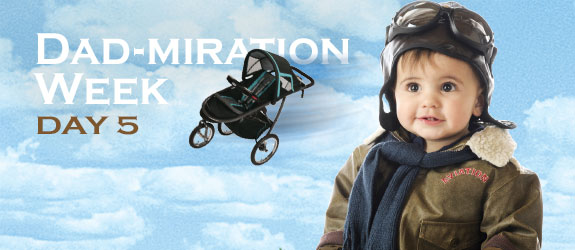 We're already more than halfway done with Dad-miration Week and we haven't given away a stroller yet? SERIOUSLY?
Alright, today we're going to fix that.
We spoke to Graco and they would like to give one of you dads and dames a Graco FastAction™ Fold Jogger Click Connect™ Travel System (jogger AND car seat). Not only do they join together with a secure one-step attachment, the jogger can also can fly.
Just kidding it can't fly, but it is rad because it maneuvers like a boss with its three wheels and "one second, single step fold" technology. I don't know about you but one second sounds good to me when it comes to folding a jogger. KNOWWHATIMEAN, motherfrienders?
Alright, let's get to the entering to win part… (hurry, ends June 19th at 8pm PST)
A few cool things about this jogger:
Safely holds children up to 50 pounds. We tried fitting ourselves in it. More comfy for kids.
Lockable front swivel wheel. Honestly we just like the word "swivel."
Powered using nuclear technology*
*by nuclear we mean mom and dad power
It folds in a single second. ONE SECOND. That's like less seconds than it takes us to fall asleep sitting on a couch.
Learn more about the jogger: HERE!
Follow Graco on Facebook: HERE!
So, what are you waiting for! Enter our giveaway!