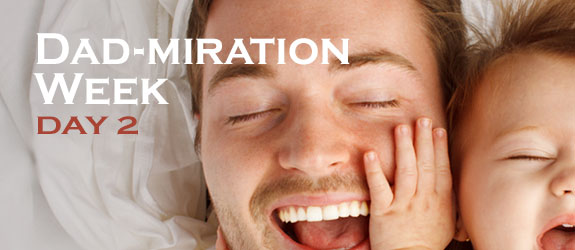 We know we promised we wouldn't talk about shaving ourselves. Ugh, boring. So, let's talk about shavers and breast pumps, okay?
Today's Dad-miration Week giveaway prizes will be given out tonight at our Twitter chat with Philips Norelco and Philips Avent. These two rad companies want to help make new fatherhood that much easier. They have worked with us before during our Movember campaign and much more, but their dedication to dads is praiseworthy. Luckily, they are helping us with our admiration of dads this week!
Please party with us tonight!
Your Formal Twitter Chat Invite
When: Tuesday, June 11th, 2013 at 5-6pm PST / 8-9pm EST
Where: Follow the hashtag #NorelcoDads on Twitter
How: To participate, use the hashtag during the hour of the chat. Make sure you follow (@howtobeadad), Philips Norelco (@ShaveExperts), and Philips Avent (@AVENT_US).
We are giving away three breast pump, chest-shavers — a new product from Philips. Revolutionary! Alright, just kidding…
PRIZES:
3 – Philips Norelco SensoTouch 3D 1290X Shavers (Retail: #299.99/each) with Philips Avent gift baskets tailored to the ages of the winner's children
Post a comment to RSVP!
Enter our Day One giveaway:
Follow us on Facebook. The best way to stay connected to our brand of madness.