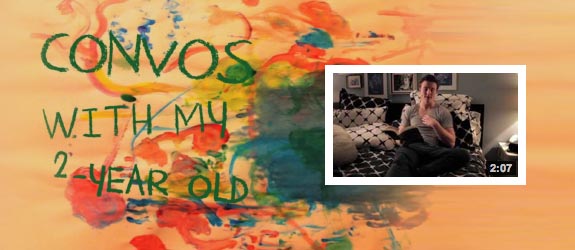 Watching a grown man tickle another grown man is totally okay if one of them is an actor playing the role of a 2-year-old. For reals. Trust me.
Not us! Two other men. Here's the second episode in the wildfire viral series Convos With My 2 Year Old.
ALSO! We're presently in touch with the creator of Convos With My 2 Year Old and the grown man who plays the 2-year-old, and we're working on maybe hopefully probably bringing you something special. Stay tuned!
In the meantime… Enjoy your brains out!
Subscribe to ConvosWith2YrOld to follow the series. (Liking, favoriting and commenting help videos on YouTube, so go nuts.)
Watch Episode I (AGAIN, if you've already seen it, c'mon it's incredible.)
–
Follow us on Facebook. The best way to stay connected to our brand of madness.
Perfect Your Child Tickle Technique
Learn from ninjas.
Also Relavant
Hey. "Relevant" is a step up from "adequate."