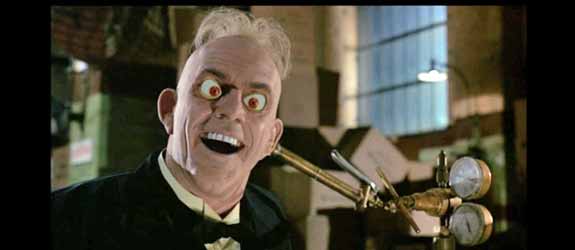 I watched WAY too many movies as a kid. Certain movies were in heavy rotation. Others were only hauled out for special occasions. The beauty of finally getting a VHS player was in learning that we only had to run down to the video store or pull out one of the many over-dubbed cassettes with 30 names and titles scribbled over to brainwash ourselves with visual stories.
But the constant video watching might have taken a toll.
My dad used to "forget" I was in the room, or whatever, and I'd end up watching movies beyond my age bracket. They intensified my imagination in some ways. In others, they messed with my mind. I had night terrors as a kid and dreams became mangled reconstructions of fears, films and fantasy.
The video supercut below sums up some of the most brutal and pivotal shifts in my childhood consciousness. For better or worse.
List o' Movies Shown Above:
1. Dumbo – Pink elephants are not natural.
2. Toy Story 2 – Oh, look. Nightmare cartoons!
3. Fantasia – The Devil is super ripped and pissed off.
4. The Princess Bride – No, I do not want to die or have years sucked out of me.
5. The Lion, the Witch and The Wardrobe – Keep that effing knife away from me.
6. The Lion King – Scar, you piece of shit. I'm having a FEELS attack.
7. Goonies – Coming after a hilarious scene, this made me fear for my hands.
8. Hook – NOT THE BOO BOX. By the way, that's Glenn Close. MIND-EFFED FOR LIFE.
9. Scruffy – This was a ABC Weekend Special. WEEKEND RUINED.
10. An American Tale – I had this soundtrack on tape. SO I COULD PROCESS THE SADS.
11. Darby O'Gill & the Little People – Fitting for St. Pats, we had this on VHS. All the drinks!
12. Snow White – Old school Disney didn't pull punches, man.
13. Time Bandits – My mom LOVED this movie. THANKS, MOM. BOOM.
14. Care Bears 2 – I had a thing for Care Bears. That thing turned on me in this movie.
15. Adventures of Baron Munchausen – Am I the only kid who watched this? DEATH COMES FOR US ALL.
16. Old Yeller – Mr. FrothyMouth dog needs some bullet medication for his sickness. I lost it.
17. Fox and the Hound – Can we not? Can we not do the slow push in on the crying?
18. Air Bud – Happy to announce I never saw this one. Looks like bad news.
19. Transformers Movie – So, your favorite character is dead. HOW DOES THAT MAKE YOU FEEL, CHARLIE?
20. My Girl – Yay! Plot twist where your best friend dies. How could that be traumatizing? Also, if Anna Chlumsky is reading this: you're amazing on Veep.
21. Toy Story – Is the part where I lie about letting my little son watch this movie?
22. Matilda – Favorite book. Worst movie. Scary scene.
23. Babe 2 – WTF.
24. Dick Tracy – I saw this as a youngin'. Good times.
25. Chitty Chitty Bang Bang – Again, I say: WTF.
26. Alice through the Looking Glass – Didn't catch this one. Is this before or after the shrooms?
27. FernGully – Well, that escalated quickly.
28. Home Alone 2 – Didn't like that scene then. Don't like it now.
29. Pinocchio – No shit, I just got a twinge in my stomach and tears in my eyes. NO.
30. Pee Wee Herman's Big Adventure – THIS ONE IS THE WORST OF ALL. NO CONTEST FOR ME.
31. Land Before Time – UGHHHHHHHHHHHHH.
32. Follow That Bird – Sesame Street decided hanging out on the street wasn't good enough.
33. Witches – NOPE. Also? Anjelica Huston. Yikes. Witches of Eastwick also falls under this category because I accidentally watched some of that too.
34. Wizard of Oz – Because every other effing thing in this movie wasn't scary enough.
35. Labyrinth – David Bowie is generally terrifying, right? It's a good thing he's also awesome.
36. The Jungle Book – Not a fan of any movie or cartoon with quicksand. Sorry.
37. The Dark Crystal – Again, saw this too early. Messed my shit up.
38. Return to Oz – This movie is, I think, why Fairuza Balk is so surreal and unique. And I am insane.
39.Up – I'm an adult. This messed me. For awhile. As in still.
40. Little Monsters – Not even Fred Savage could protect me from this one.
41. The Adventures of Mark Twain – This claymation movie changed my life. Honestly. It opened that door of fear and curiosity.
42. The Last Unicorn – WTF.
43. The Neverending Story – Third highest on the list of things that traumatized me. Definitely.
44. Willy Wonka and the Chocolate Factory – Not sure this scene terrified me, but it kind of blew my mind.
45. Watership Down – Can someone explain this to me?
46. Who Framed Roger Rabbit? – Fourth highest on the list for me. YIKES.
47. Toy Story 3 – Yep. Adult aged when I saw it. Bawled like a baby.
48. All Dogs Go to Heaven – Blocked this one out. Burt Reynolds does that to a kid.
49. Bambi – Excuse me. I keep dropping saltwater on my keyboard.
50. The Brave Little Toaster – This entire movie was made from nope.
Sweet dreams tonight everyone! SWEET DREAMS MFers!
–
Learn more about my crazy childhood!
Because you need to answers to why I'm so weird, right?
Follow us on Facebook. It won't give your kids nightmares.