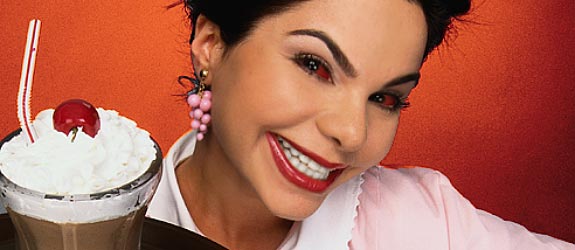 There is an art to waiting tables. It is a dying art. It's certainly a really a hard job, but there are tricks to it. To make it not be so awful.
Everyone knows it must be a gruesome task to wait on tables that contain kids, but I'm a parent, so I'm not writing about the woes of food servers here. Servers can pretty gruesome, too. So, I'm writing this as a waiter's or waitress' guide to not being demonic to… giving good service to… dealing with… surviving one of the toughest customers they'll ever wait on: a family. These won't apply to all kids but I'm sure you'll see the obvious good sense of playing it safe.

DON'T forget all of the napkins…
Right away, as soon as everyone's butts hit chair, thump down a massive stack of napkins and you'll see parents' faces light up like it was money. Don't worry about waste, they will all be put to good use. Or horrific use depending on how you want to put it.

DON'T humiliate older kids…
A high chair or play mat and crayons will probably not be needed if a kid has their own smartphone or looks too heavy for a lumberjack to easily carry, so don't ask. Dining out with kids is hard enough without adding awkward embarrassment into their moods.

DON'T take foooooreeever…
Get a friggin' move on! This may seem unfair and preferential, but it's honestly in the best interests of the restaurant and everyone in it, and the entire surrounding block. If you decide to take a break mid-service, you might also want fill out a will while you're at it.

DON'T try to be a detective…
Of course you're trying to be helpful, you're just really really unlikely to actually be at all helpful. Unless asked, you probably just want to leave the Great Mystery of the Kid's Illusive Appetite to the mom, dad and Scooby-Doo.

DON'T baby- or close-talk…
Jamming your schnoz into a child's face or baby-talking to them may seem friendly, but yeah, not the best of ideas, really. Wait until you have one of your own to shower them in eskimo kisses while you blabber like one of the less intelligent Muppets.

DON'T touch the treasure…
Just don't even dare to think about dreaming about touching it on your own. And even if a kid's toy or possession is clearly offered to you (not just held aloft for all to behold), you should be hair-trigger ready to return it the millisecond your hand makes contact.

DON'T be a curious cat…
If the kid just jibber-jabbered at you, smile and don't ask questions; you will not be tested on it later. If they have a scar, a bandage, a weird [anything], just shut your mouth hole. File those curiosities under the None of My Business folder and then light the folder on metaphorical fire. Curiosity can be as hazardous to your tip as it is for cats.

DON'T make gender gambles…
It's sometimes hard to tell lad from lass these days. Not every parent follows the standard-issue haircut and color palette for their boy/girl, so avoid he/she pronouns until you hear one from the parent. Refer to them as the little one or cutie if needed. You can give it a guess though if you're a bazillion percent certain, or two bazillion percent dumb.

DON'T get touchy feely…
Every kid loves getting cheek-pinched, petted, patted or otherwise mauled right? Wrong. Offering your hand to be sniffed is also a bad idea. Look. If you cannot control yourself, go get a friggin' pet or become a masseuse, but hands off the customers' kids.

DON'T have the patience of a ant…
You're on the job, and it's just for blink of time compared to what ma and pa have in store for them. Do NOT roll your eyes, and try not to smile if you're gritting your teeth. Also, if you're taking deep cleansing breaths in an attempt to absorb additional patience through your lungs, try not to flare your nostrils like a racehorse.

DON'T bring an order of freshly-cooked danger…
Glass cups, lit candles, knives and forks, plates or food that has been heated to the temperature of a steam engine? Yeah, they probably didn't order a trip to the ER to go with the grilled cheese. Have you no soul or brain? Set that stuff AWAY from babies and kids or you may wind yourself up in the ER.

DON'T offer unwanted, dense advice…
Get the idea of trying to put out a fire with gasoline. Got it? Well, the same idea applies to offering tips or suggestions to a parent who's trying to wrangle a fussy or freaked-out child. Few parents on this planet ever hang their desperate heads and hope for the rescuing help of a young, stranger dressed in black and carrying a pen and pad. Zip it.

DON'T offer free dessert or candy, you cruel idiot…
Unless you plan on going home with the family to deal with the human sugar-rocket you are about to launch, do not offer it. Even if the parents decline your gracious offer, the family forecast will very likely be: whiny with a chance of begging. If you're addicted to making kids' eyes light up, go learn how to craft tinfoil into animal shapes or something, for God's sakes!

You see?
Families and food service staff can peacefully coexist. It just takes a little care and some mutual understanding. And occasionally some really heavy tipping when the place is left looking like the set of a Godzilla movie at the end of shooting. The one where he fights a monster made of breadsticks.
–
Follow us on Facebook. We'll even present you with an after-diner mint and a moist towelette.
I'm Better with Pictures
I promise these have way less words.