[Christmas morning]
"Whu's dat? A pwesent? Fo MEEE??? Whu's in it?"
[1 minute later]
"I can't open da wapping. It keeps wipping. Oh WOOK! TWAINS!!!"
[.0001 seconds later]
"I wead da 'stwuctions and you buiwd it, okay, Daddy?"
[100 minutes or so later]
"It's not wook wight, Daddy. Hewe ya go. You can have da 'stwuctions but juuuuust fo one minute!"
[10 minutes later]
"Watch da twain go down, Daddy! YAAAYYYYY!!!"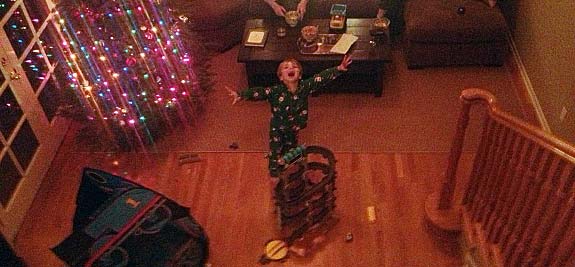 There's always that first Christmas for your kid. Not the actual offical First Christmas that we all know "doesn't count," where you the parent spent most of your time on drool management and trying to prop their little bobble-heads up long enough for a family photo. I mean the one where your kid first GETS it, where they first fling out their little arms and YAY at the top of their lungs.
–Andy

[1 minute later]
"Daddy, I bwoke da twain twacks again. You pwease fix it?"
–
Previous My Kid Just Said
Kids aren't so good a shutting up. So, there's more.
My Kid Just Said Facebook Page
This is where YOU can post YOUR kid's quotes. Go for it!