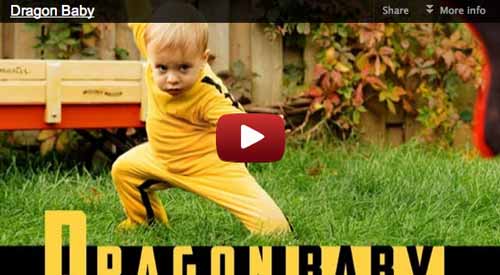 Sometimes… when parents gaze lovingly at their child, they see themselves, a perfect combination of two separate people in one, giggling forward into the future for them.
Other times… they see an ex-assassin seeking revenge, one-by-one, on the group of killer stuffed animals that betrayed… Erm… Okay. Maybe that never happens. UNTIL NOW!
I bow to you, Patrick Boivin, for this brilliant take on Kill Bill And Bruce Lee! And on toddlers too, for that matter. (See also the equally amazing "Iron Baby".)
Thank you for taking the sleep-deprived daydreams of countless dads and moms, and adding the skills of a ninja and slapping an arc reactor on for good measure.
–Andy
More Videos
Hey! We even made some! No epic special effects though.
Facebook
If you like our page, we won't send the Dragon Baby after your kid's stuffed animals.