Every year the evolution of Halloween costumes seems to go away from the upright-walking hominids we have become and drifts toward regression.
In a sentence: WE ARE GETTING WEIRDER, PEOPLE.
So, I felt it would be a "good" idea to highlight the strangest Halloween costumes you can now buy online and drive the point home that I no longer understand humanity.
Here you go. Read at your own risk….
1. Pervy Banana Guy
I mean seriously, what in the living crap is going on here? I don't think I can ever eat a banana again. I don't even want to peel the sucker.
The costume also screams "I'm the counterpoint to all the 'sexy _______' costumes and equally as dumb." I can just see hordes of post-frat, crazy guys roaming the streets, humping unsuspecting bystanders who are allergic bananafied douche baguettes, the world over.
Also, what if a women wore this costume? Just think of the horrifying possibilities.
IF YOU'RE WEIRD AND WANT TO BUY THIS THING, CLICK HERE WEIRDO!.
2. Rat Trap Man
Gore and gruesome are two highly marketable and important qualities for costumes. This is both, and yet neither.
Who in their right mind WANTS to be a dead rat? It has none of the appeal of the undead like a zombie or a vampire, and all of the hassle of a costume that looks like an eyesore. Why not be a dead rabbit or an injured bird while you're at it. Sicko.
It's downright dumb. Would you wear this?
IF YOU'RE WEIRD AND WANT TO BUY THIS THING, CLICK HERE WEIRDO!.
3. Man-Eating Shark Thing
Okay. Fine. This is semi-interesting but what I find disturbing are the shark's feet and shoes. Don't sharks have fins? And what reputable shark has time to go find a pair of dress shoes in his size.
I just don't get it. I like shark week on Discovery, and I think the costume could be pretty clever but the shoes ruin it for me.
Maybe this shark is a character from a bad Syfy channel movie, like SHARKTOPUS, where the shark was genetically modified to be part human?
Even if that were the case, I can't support inter-species abominations like shark people. The teething babies alone are worth that kind of segregation. Right?
IF YOU'RE WEIRD AND WANT TO BUY THIS THING, CLICK HERE, WEIRDO!.
4. Mr. Mommy Issues
Do I even have to write anything about this one?
Really?
I do?
I MEAN WHAT IN THE EFFING EFF? THE NAME OF THE COSTUME IS "BUT I DON'T WANT TO GROW UP, MOMMY!!!"
Enough is enough.
If you buy this costume, then we need to have a family conference. Period.
IF YOU'RE WEIRD AND WANT TO BUY THIS THING, CLICK HERE, SICKO!
5. Hooters Gone Wild Costume
I know I said I didn't want to write about the last costume, but that would've been easier than writing about this garbage.
So, who AREN'T we making fun of here? And can we discuss the photoshop for a second? The jagged edges of this horribly weak photo make me think something illicit or strange was happening behind this moron.
Can you imagine showing up for a photo shoot and they're like, "Hey, bro. So, here's your costume. After we do this shoot, we're going to pay you in red vines, cool?" Yeah, not cool.
PS: My nipples kind of look like this.
JUST WTF.
IF YOU'RE WEIRD AND WANT TO BUY THIS THING, CLICK HERE, WEIRDO!.
And now today's BONUS ROUND!
I know what we need for Halloween: A BAG OF MISCELLANEOUS BONES!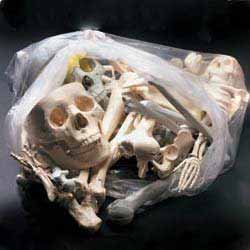 You can buy it HERE!
–
Our Facebook
We promise not to show you anymore costumes. In public, at least.
"Instructional" Sounds So Boring
But these Instructional Diagrams are the opposite of boring.