[Sigh] "I feel so relaxed. Like I just peed." [Everyone bursts out laughing] "What!?! It makes you feel relaxed!" -Max (2010, 10 years old)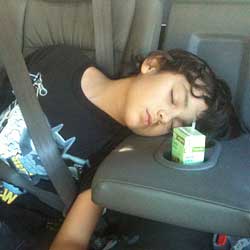 Relaxation Level: Max.
We all voiced our agreement by laughing even harder.
He was right! It's true. It's not something you talk about over tea and crumpets. Or ever really. Still, it's true. The harder the need to go pee, the more relieving and relaxing the release.

–
Previous My Kid Just Said Facebook Page
Henna is like poop? Yep.
My Kid Just Said Facebook Page
This is where YOU can post YOUR kid's quotes. Go for it!