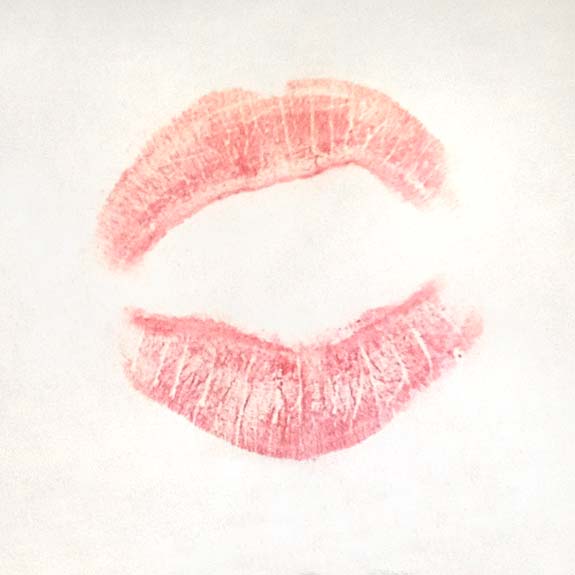 I found something.
A few days ago I was rifling through some rarely-opened filing cabinets, looking for something; something boring enough that I forgot about it the second I opened up a folder that was bloated with odd, crinkled contents.
Memories beamed out at me. Cards from my kids in brightly-colored construction paper, saved scribbles that had once enjoyed the refrigerator magnet spotlight, some random family photos, bits of unfinished bad poetry. And this…
An impression of my wife's lips. From the second time I ever met her.
The first time we met… Yeah. Let's just skip to the second time we met, shall we?
Lizzie, our mutual friend Kevin and I were headed out together for a night of fun in the yellow and black Mini Cooper I owned at the time. She asked if she could drive it and, without skipping a beat, I said "Sure!" She seemed stunned and probably had no idea how adorable and sexy her surprise was.
She smiled and climbed into the cockpit, popping open her purse to apply a fresh coat of ruby red to her lips and asked if I had any napkins.
Of course I didn't and almost laughed at the thought, so I grabbed my sketch pad and tore out a sheet I'd been using to sharpen my pencil by swiping it back and forth. She made a lazy O with her lips and pressed them against a part of the paper that wasn't covered in pencil lead.
For some reason I put the page back in my sketch pad.
A couple of months later, we were speaking for hours on the phone, for the 62nd consecutive night or so. I think we spoke in various foreign accents for the entire call. When we rang off, I stared at the phone (like they supposedly always do in daytime soap operas but never do in real life), but I wasn't seeing it in my hand. I was looking at something that wasn't there. That wasn't even then. I was looking ahead.
I already knew by then that I loved her. But this was the moment when I allowed myself to let go the grip on friendship that I was using to hold back the shadows and scars of my heart's former failings; all the thought-up monuments to my own past miseries.
I finally let myself love her. I breathed out the breath I didn't realize I was holding, and with it came the words, "I'm going to marry her."

– The Beginning –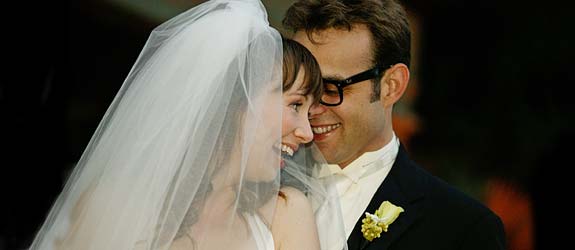 –

Like Us on Facebook
You don't have to fall in love with us. Liking will do.