[Lucas (3yo) looking at a picture of himself] "Da's Wucas!"
Me: "No, you're supposed to say 'that's me.'"
[long pause accompanied by scrunchy nose of disapproval] "No, Daddy! It not yooOooOooOU! It WUCAS!" -Lucas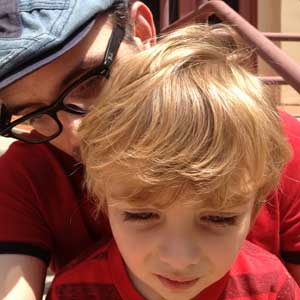 Dad, you sound like you think you know what you're talking about, but I do not think that you do.
I think my son is first rate, but I still wince a little on the inside when he refers to himself in the third person. Oh, I admit, I'm laughing hysterically on the outside, but what's inside is dreaded thoughts of a male super model saying things like, "Fabio likes it when Fabio gets time to brush Fabio's own hair for hours." Creepy much? Yes, lots! But it's cute when my son does it. Still… I start to imagine him sixteen and telling me, "Dad! The kids at school keep making fun of Lucas. Lemme tell ya, Lucas has about had it up to here with it!" Suddenly creeeeeepy again. But cute for now, while it lasts.

–
Previous My Kid Just Said Facebook Page
Henna is like poop? Yep.
My Kid Just Said Facebook Page
This is where YOU can post YOUR kid's quotes. Go for it!