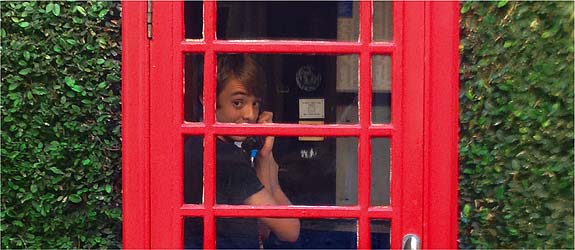 When I was a kid… wait. No no. Not like that. Not like, "When I was a kid I used to walk twelve miles to school carrying my lunch in a block of ice with shoes made of burlap sacks filled with broken glass and rusty nails." Though I'll write something that at some point, I promise.
"Hey, Dad. Can I have a quarter." My brow furrowed as I started digging through the jangling junkyard of my pocket, "Sure. What for?"

"To make a call," said Cody, in a meaningful way.

Trying to comprehend, I asked dumbly, "Your phone's dead? Wait. What? Why not just use my phone?" Referring to our mobile phones.

"Because I want to use this one." He thumbed over his shoulder to ye olde school British telephone booth behind him. He nodded when I asked, "It actually works?" and I must have looked as doubtful as if he'd told me it also led the Ministry of Magic.
This is where the experience was starting to become strange. Stranger for me than the things that were actually happening. Something more. (insert eery music here)
It had been… well, years since I'd made a call on a pay phone. As the realization of this sank in, it occurred to me that Cody hadn't even referred to it as such, as a "pay phone." HE PROBABLY WASN'T EVEN FAMILIAR WITH THE TERM! Anyways, I knew he'd need more than one quarter but told him I didn't have another. Nearly hopping from foot to foot with eagerness, like he had to pee as badly as the sun needs to rise, he asked if he should beg for it from strangers. I looked at him in horror and redoubled my effort in the abyss of my oversized and over-full pockets. Luckily I produced another quarter. Bling!
"Who are you going to call?" I asked. "Myself!" he said. Then I got it. It hit me like a splash of water to my face.
"You've never made a call on a pay phone!?!" I admit I must have squawked the question. He shook his head. No.
Wow. Let's talk a relevant left turn for a sec. Charlie once sent me an Interweb funny saying: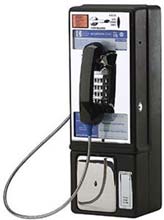 My kids won't know the joy of finding a quarter in the coin return slot.
I'd laughed at it when I saw the picture and I knew it was all too true. But there was a disconnectedness in my laughter, that was finally connecting here with my son, at this pay phone. And somehow, now, it wasn't funny. It was just weird. Like wearing your underwear backwards.
There are times when something happens and you know that a page has just turned in the book of your life. It whooshes over head and the wind of it blows the hair of your soul. A love letter, a drivers license, a first job. These are the pages of your life turning. But then there are those pages that turn that are bigger than your life. They're chapters. Chapters that represent the pages turning in everyone's life. Unfortunately they don't have the cool illustrations that mysteriously tease what's about to come. Which would be nice, because it seems the further we go in the book of our own lives, the more we have no idea about where we're actually going to wind up.
Back to the phone call. Cody tried and failed. He tried again. Fail.
"It's not working, Dad." said Cody. And I thought he was just being a noob.
All arrogant and self-assured, I climbed into the big red phone booth (Holy crap! Some day people won't know what a "phone booth" is!!!) and tried to do it myself. And… IT DIDN'T WORK!!! I thought he was just screwing it up because he was a pay phone virgin, but it was broken! I got the good ol' "Boo doo DEE! I'm sorry (the most un-sorry any human voice has ever sounded), your call did not go through. Please deposit 50¢ to continue [being denied any kind of quality service]." I tried again and again. FAIL!
In the end, Cody never even made his first pay phone call. He may never. In his entire life.
Now I'm just waiting for some kid to ask me if I was born before iPods and electricity.
–
Instructional Diagrams Are Better
Better is always gooder. Choose gooder. It's better.
Facebook will make you feel old…
At some point, somehow, it will… if it hasn't already. But like us on it anyway. So we can feel young and hip together!