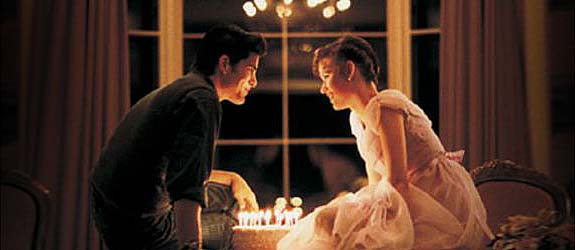 ---
WARNING: I'm back at it again. People still want to have sex and that's not my fault. Kids wake up or the daily grind gets in the way. Don't be mad at me because I'm offering sex advice or because I'm dumb. I had a school desk dropped on my head when I was young. And that's all I have to say about that.
---
I will continue writing these tips so long as people are still interested in getting sex going! Or until I hit 50 tips. Whichever comes first. The last set of ten tips was directed at women trying to light a fire under their man's pants, or inside it at least, to get back some of that lovin' feeling. But we're back to men now. Soooo…
Here goes the next installment!

Photo and costume design by the
rockstar known as Sewing Cafe

#31 A New Outfit

When she unwraps the tissue paper, stand back. Results may vary. You've bought her a costume! Wonder Woman, Cat Woman, dirty Pocahontas, a slutty meter maid, whatever the costume store has for women, they're pretty much all slutty. She might not wear it, but she will certainly understand that Tarzan wants to swing in Jane's jungle.





#32 Sexual Healing

A little while after complaining of a twitch in your muscles, tell her that it just reminded you of an article you read that said backed-up semen can cause muscle twitches and ultimately lead to cancer. Don't worry. If she goes on the Internet to verify this, she will find it. The Internet now has every kind of bullsh*t that can be conceived.





#33 Movie Moments

The power of film is undeniable. You can unleash that power by recreating it. Beware though, it is awesome, skin may be clawed with passion. If your girl is sweet on films like Sixteen Candles, after the little one has finally passed out, put on the song If You Were Here and just sit on your dining room table with a burning cake between your legs. Or if your girl is more into a film like Ghost, put on Unchained Melody from the Righteous Bros., glue a penny to your finger and walk towards her slowly and purposefully. You will not believe the reaction.





#34 Standup Comedy

Sometimes the best prelude to foreplay (fore-foreplay?) is laughter. Most one-liners will sound like cheesy pick-up lines that would make most women itch to face-punch someone, but when you're well passed the point of pick-up lines and dating, it's comedy. "I DON'T have a pistol in my pocket, I am just happy to see you." Taking off your clothes, you say, "Wow! Is it hot in here!?! Or is it just you?" If you don't get any laughs, or worse, get the I-am-not-amused stare, tap your crotch and say "(Thump thump thump) Is this thing on?"





#35 Cootie Catcher

Remember? This is a game kids create out of folded paper that tells your fortune. One player asks a question, and the other finds the answer by manipulating the cootie catcher's shape. But when you create the cootie catcher, write "You will have sex tonight" as every option, for every question. She'll know you've got a bad case of cooties that you're dying to share with her.





#36 Fortune Cookies

Speaking of fortune telling! Get a little arts-and-craftsie here. Order Chinese, but set it up by putting a set of tweezers to good use and replace the fortune with a custom message. "Tonight you will have wild sex." Someone might just get Mu Shu Porked tonight. In bed.





#37 The International Language of Barry White

Il n'a pas d'importance quelle langue vous parlez.
Non importa che lingua parlano entrambi.
Es spielt keine Rolle, welche Sprache Sie beide sprechen.
No importa qué idioma hable tanto.
It doesn't matter what language you both speak. BARRY WHITE!





#38 Actual Dirty Dancing

Sign up for dance lessons. Trust! There are so many provocative styles out there to choose from, traditional styles of sensuality in motion. BUT! There's also Dirty Dancing, the Lamabada and other naughty dance maneuvers you gan get your groove into. When you're practicing, just look in a mirror and tilt your head to the side, if it looks like you're making stylish love, then you're on the right track. You'll probably wind up dancing the horizontal mambo, or if you're into it, the conga line for two.





#39 Choreplay

Reasearch has shown that some moms that want to jump off a bridge because of all the work and mothering they have to do experience an upsurge in sexual… willingness, when they get help from their man. Dishes, trash, cleaning, diaper changes, anything! They want a break from the wanting-to-jump-off-a-bridge-ness of it all. Give it to them! Have a look at the last segment in a Spicemance video we created that gives a pointer to men. Who want sex.





#40 Puppet Show?

Yes. Everyone loves a puppet show, right? Grab a cardboard box and three socks. Cut out a hole in both sides and the bottom of a box that will easily fit on your lap. Use a magic marker to put eyes on the actors of the play, dress them up as you see fit. Even if it doesn't result in sex, as long as your star performer can stand up on stage, you'll have a life memory between the two of you.

Aaaaaaaaand I'm done. For now. Sorry about that. Until the next time, of course. Please post your hate mail in the comments below.
-Andy
Andy is dumb. Don't listen to him if you want to maintain your relationship or want to ever have sex again.
[ See 1-10 ]
[ See 11-20 ]
[ See 21-30 ]
–
Facebook
It's the best way for you to point out errors in our posts and voice heated objections to them.
Our Instructional Diagrams
These will be much smarter than this super dumb set of tips. And that's saying a lot. Because these are really dumb, too.