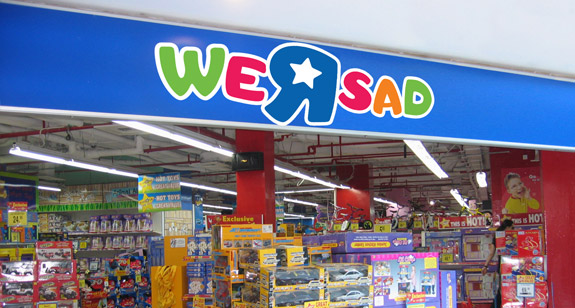 Today, Toys 'R' Us begins closing the doors on its stores, and with them, part of my childhood.
There's a vast universe of "My Kids Will Never Know" memes out there. This is really a timeless theme; generations always have and always will advance forward, turning the things of today into antiquated and unfamiliar footnotes in history books (or wikipedia articles).
It's sad though. To see the things of our youth fade and get forgotten by the future. Kids will never know our awe at gazing down a store's seemingly endless aisles, pausing for a microsecond as we decided which one to explore first before flinging ourselves into our joyous toy fever.
​
Yesterday my son asked me what "cassette" meant, from the book he was reading. Sitting next to him on my laptop, I fired up Google and showed him pictures and explained. I nearly said "holy shit" to myself in front of him when it dawned on me that he possibly, probably, wouldn't ever experience a cassette at all.
So let's reminisce a bit, my fellow Toys 'R' Us Kids. If you're like me, you'll remember their jingle without even needing to press play.
I kept my promise to you, Toys 'R' Us. I never grew up. And I will always be a Toys 'R' Us kid.
Your inventory will be sold off and your stores will become the dark and lifeless aisles of yesteryear. But, for me and so many millions, they'll always shine in our fond memory as nuclear-bright canyons of childhood treasures.