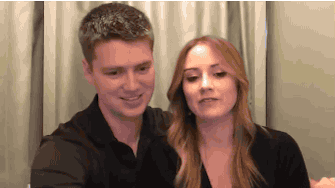 There are some moments people share online that are just so rad and uplifting, you can't help but explode with joy (on a good day) or at least crack a smile with a pleased nod (when you're having a terrible day).
This is one of those moments. The first (hopefully) and most important (definitely) pregnancy announcement: telling the father-to-be. I didn't have a reveal quite like this, but the moment was still stunning and emotional. It always is, however it's done, whatever the emotions are.
Watching this new dad's face as it slowly dawns on him is the absolute best! I can't help but feel stupid with happiness for them, and envious of the amazing keepsake photos and video they have of this moment.