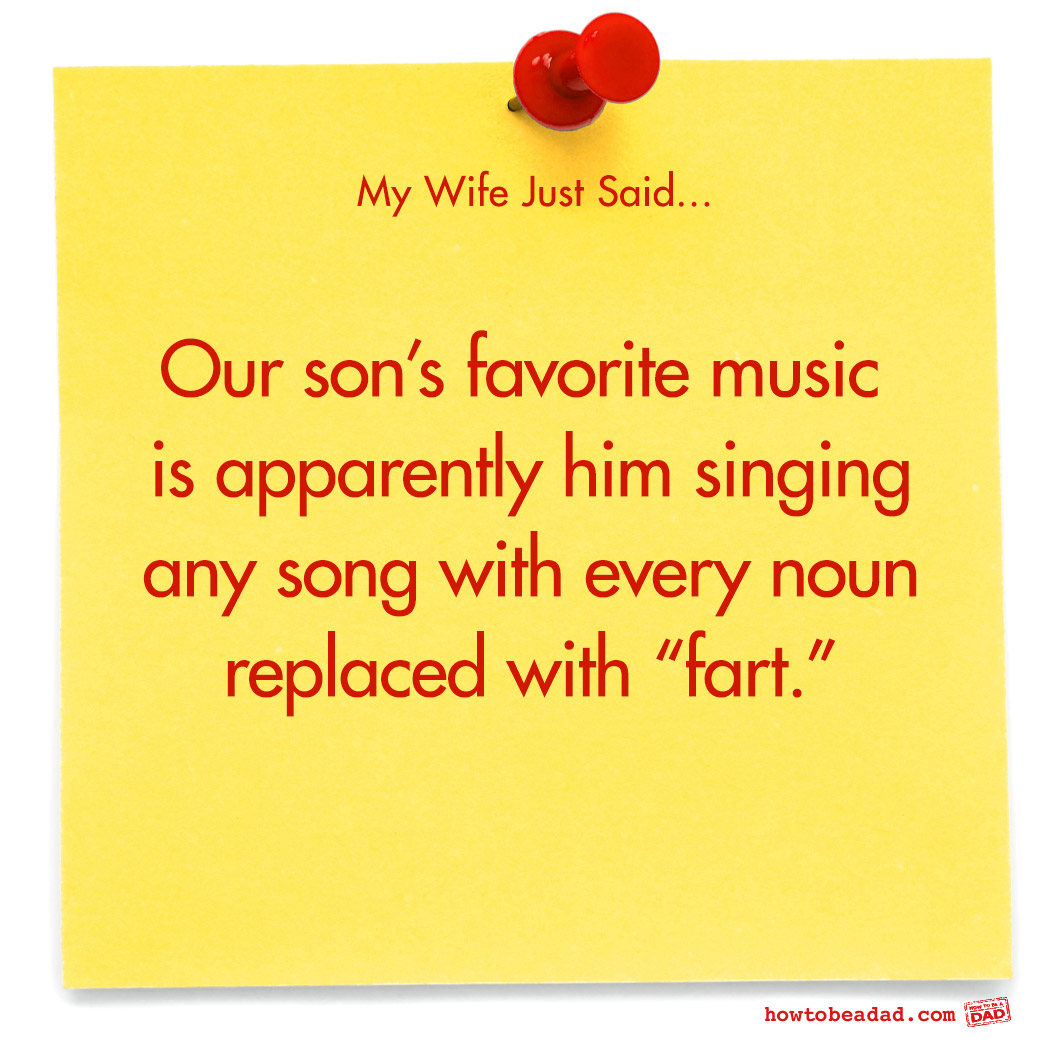 After my wife said this – well, after I was done laughing – I told her she just might have happened upon a billion dollar idea, there.
Those Kidz Bop albums (with little kids singing covers of pop music) seem to sell like hot cakes, and I'm pretty sure if there was a "Fart Bop" version, kids would lose their minds. Parents would too, of course, but there's really no avoiding the brain damage parents have to endure as a result of listening to kids' music over and over and over and over again.
Songs could include remakes of popular titles like:
What Does the Butt Say? – The Fox (What Does The Fox Say?), Ylvis
Uptown Fart – Uptown Funk, Mark Ronson & Bruno Mars
Fart It Out – Shake It Off, Taylor Swift
Crazy Fart – (Let's Do the) Crazy Frog
Loaded with these children's movie hits:
Your Farts Come – You're Welcome, Moana
Can't Stop the Farting – Can't Stop the Feeling, Trolls
Let It Blow – Let It Go, Frozen
(Break with All the) Odors of the Wind – Colors of the Wind, Pocahontas
Super-GAGGY-FART-ili-STINK-EXTRA-GAS-ATROCIOUS – Supercalifragilisticexpialidocious, Marry Poppins
Also featuring such nursery rhyme classics as:
The Farts In The Butt (Go Pflthp! Pflthp! Pflthp!) – The Wheels on the Bus
Mary Had a Great Big Fart – Mary Had a Little Lamb
The Farty Sharty Song – The Hokey Pokey Song (poop accident advisory warning)

And so, so, so many more… farts.
–
More "My Wife Just Said…"
The fun doesn't have to stop here.
Follow HowToBeADad on Facebook. It's the best way to stay connected.