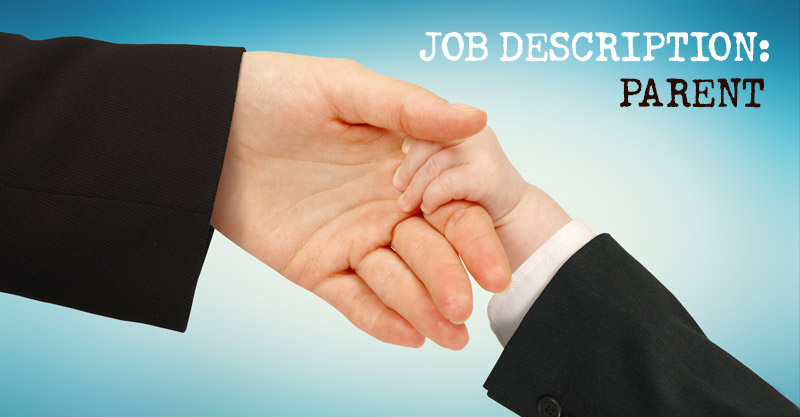 Job Title: Parent (Mother / Father)
Department: Human Development
Hours & Schedule: 24 hours a day, 7 days a week, 365 days a year
Location: Everywhere
Job Description Updated: Hourly

---
Position Summary
The care and feeding of a miniature human. Backbreaking and mind-numbing manual, mental and emotional labor. Keeping your cool under pressure, exhaustion, overload, self-doubt, judgement and direct opposition from your child that varies between stubbornness and total bat sh*t insanity.

---
Duties & Responsibilities
• Constant nerve-racking alertness to and protection from potential dangers to the child (including self-destructive dangers to themselves).
• Preparation and re-preparation of food that isn't deemed "yucky" by the child's roulette wheel of an appetite. This includes food sharing and management of heartbreaking amounts of leftovers.
• Bodily fluid and mess sanitation, comparable to the management of a critically malfunctioning sewage treatment plant.
• Repurposing your body as a human cradle, pillow, meat shield, napkin, punching bag, pack mule, etc.
• Maintenance of your mental stability and the development extra-sensory psychic powers; you must learn to both predict the future as well read your child's erratic and illogical mind.
• Purchasing everything, such as new goods or services and never-ending supplies for their upkeep; creams, batteries, wipes, etc. This also includes the replacement of all broken, un-cleanable or lost items.
​• Administration of life; including scheduling activities, planning awkward playdates, creating hundreds of reminders, counting to 3, remembering what year it is, etc. Basically everything. Every single friggin' thing.
• Management and production of laughter, as in making your child laugh, not laughing yourself when it's inappropriate, and just laughing as frequently as possible … especially when times are really, really tough.

---
Required Experience
None.

---
Desired Skills & Experience
Several years of experience in the following fields is highly recommended:
• Nanny
• Short-Order Cook
• Waiter / Waitress
• Nutritionist
• Doctor / Nurse
• Maid / Janitor
• Bodyguard
• Chauffeur / Delivery Driver
• Teacher
• Business / Hostage Negotiator
• Wild Animal Tamer
• Slave
---
Oversight
While you're only answerable to the laws of your region, you'll be responsible for all decision-making and consequences, but you'll receive ample daily feedback on your performance from family, friends, other parents, and even complete strangers without children.

---
Sick Days & Time Off
Firstly, hahahahahahaha! Secondly, you'll need to employ the services of family or sitters for very short breaks from your duties.

---
Salary
Memories, pebbles and sticks, abstract artwork, germs, laughter, tears, pride, joy, and above all, love so great that you cannot comprehend it until you experience it. Also farts.