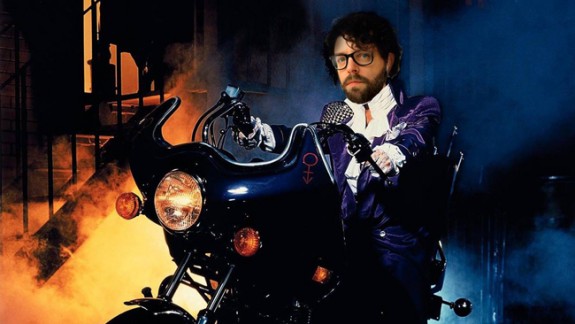 It's not often you get to meet people who are that rare combination of funny and smart. They're like some kind of misunderstood unicorn. It makes you wonder how they managed juggling both traits, which inevitably makes you some form of envious or angry because you're not quite either of them, and definitely not both.
Such is life with Andy Herald, a genuine power plant of creativity and intense contemplation, who turns 40 years-old today.
Our journey together has led us both to find great things in our own respective lives, and for that I am grateful. But I think it's important to review some of the most salient, interesting moments in our career as writing and humor coconspirators. Andy Herald's made me a better artist in many ways, fought on my side when I needed it, and made me laugh more times than I can count. Just check out one of his nearly 700 articles or illustrations here on this site.
So take a walk down Andy Herald Lane and stop to smell the musky flowers.
Thank you, Andy. Happy birthday.
1. Two Houses Both Alike In Indignity
2. He's A Great Conversationalist
3. He Loves His Children
4. He Enjoys Laughter at High Volume
5. He Isn't A Light Sleeper
6. He Enjoys A Nice Cup Of Coffee Or Twelve
7. He Helped Me Achieve My Dream Of Becoming A Published Author
8. He's A Fan Of The Arts
9. He Likes To Eat And Cook Stuff
10. He's An Inventor
11. He's Multi-talented
12. He's Unafraid Of Being Silly
13. He Solves Problems You Never Knew Existed
There's a new kid in towne. And he can't yet walk. He's a baby. How downright perfect for you there's also a new baby carrier in towne! Baby Hjölster!
14. He Supports Crime Fighting
15. He Loves Star Wars
16. His Earbuds Are Portals To Another Dimension
17. He Enjoys The Beach
18. When He Writes, He Goes Deep
19. He Likes To Get Down
20. He Sometimes Looks Like Grumpy Cat, But Has Less Dander
21. He Understands Parenting On A Deep, Guttural Level
22. He's Just A Really Graceful Guy
23. He Really Likes To Blow Stuff Up — Like This Cake For Example
24. He's Pretty Crafty With Power Tools
25. He Watches What He Eats
26. He Enjoys Hiking!
27. Did I Mention He Loves Star Wars?
28. He Isn't Snobby About Stuff
29. He Enjoys Hiking!
30. He Has A Sincere Love Of Science!
One of the most important branches of science to ever be developed: DAD SCIENCE. We test things so you never even need to think of them.

Posted by HowToBeADad on Sunday, February 8, 2015
31. His Facial Hair Game Is On Point
32. His Thoughts Are Uniquely His Own
33. No Matter Where He Is, He's Dressed For The Occasion
34. He'll Carry Your Stuff Or Whatever That Is
35. He'll Go To Movie Premieres And Stuff
36. There Isn't A Good Enough Title For This One
37. He'll Go Along With Your Hair-brained Schemes, Including Driving Across The Country
38. He Has A Lovely Singing Voice
39. His Hair Is On Fleek
40. No, Seriously HE LOVES STAR WARS!
And listen, he's got a lot more where that came from. Just get to know him. I'm looking forward to seeing what he does with his next 40 years.