Some people seem to have crafting, cooking and DIY-ing as a sort of magical super power, they make it look so flippin' easy. So easy, the rest of us can easily get caught up into a delusional enthusiasm. Especially parents, it seems.
It's been said "you miss 100% of the shots you DON'T take," but here are some gloriously awful examples that show how we miss an unholy number of the shots we DO take.
Here we go!

Nom Nom Nom Cupcakes
Somehow "nom" turned into "nope" somewhere along the way. Maybe step 17B.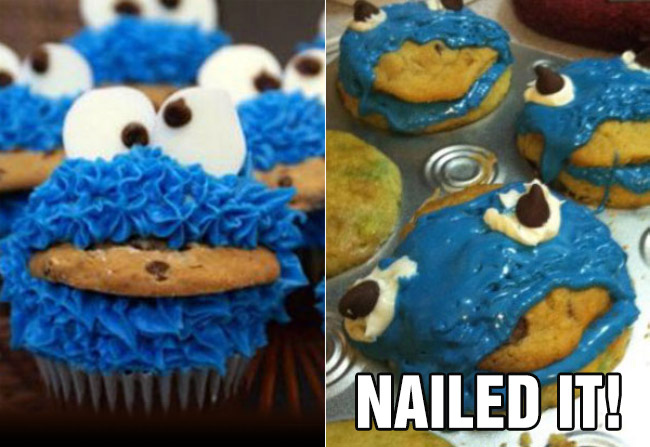 Lord of the Origami
You'd love a rad Ringwraith paper decoration for your desk for everyone to admire. Too bad everyone will immediately mistake this for an old grocery list and toss it.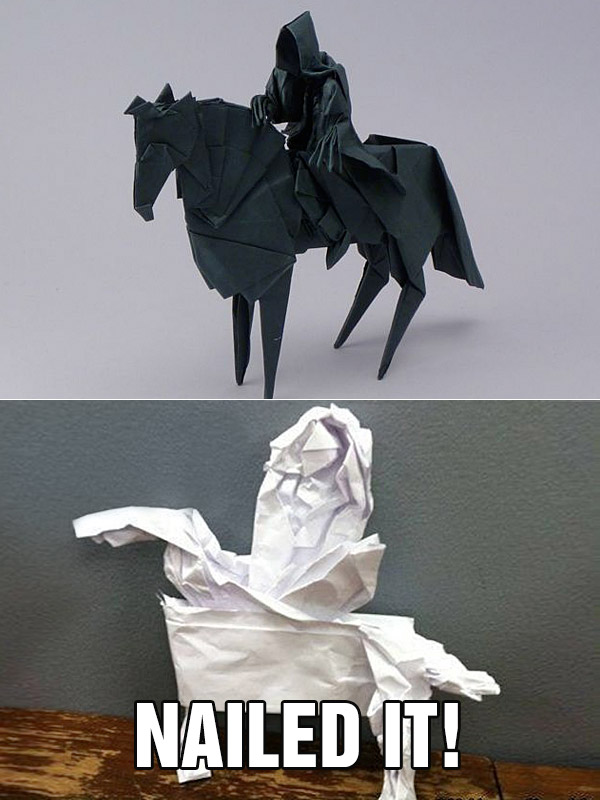 Cute Lil' Deviled Chicks
They looked so good in the picture. Maybe it was because they didn't look like they'd already been chewed.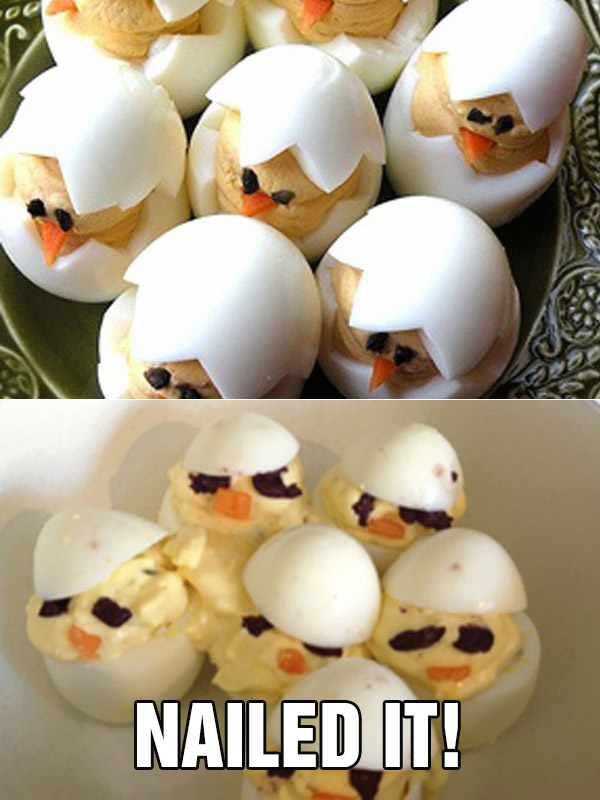 DIY Designer Decorations
It can be really hard to pay cold hard cash for things that seem like something an African bird made, with a dash of dye added for flare. Also, it might be fun to make them! But also, it might be not so fun.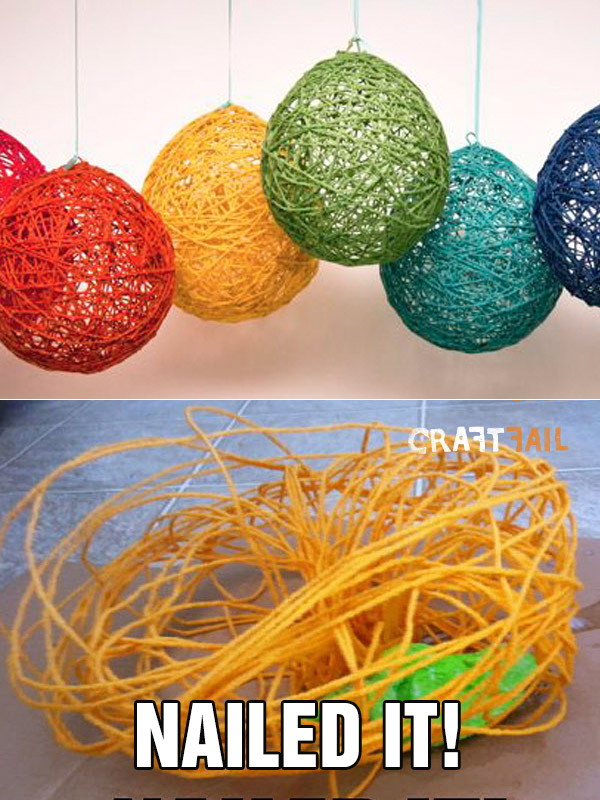 Comfy Cozy Baby Wrap
If at first you don't succeed, use a doll to practice. Seriously. Just in case, y'know?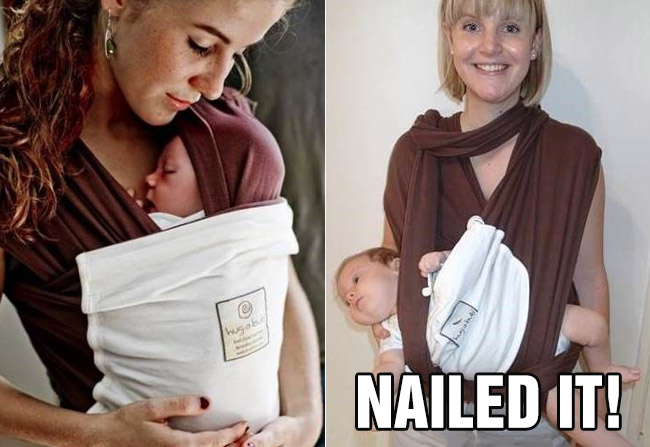 Frilled Scarf on Fleek
Why buy something you can make? This, this is why. You never know! Maybe "apocalyptic ghost chic" will become a thing someday.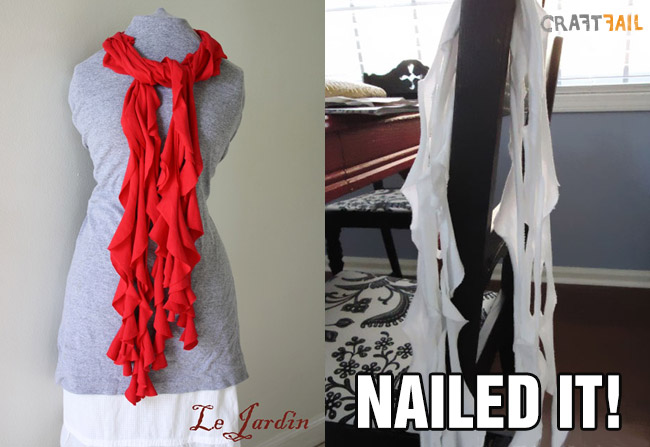 Bite-sized Baby Bunny Buns
Poor little bunnies, you can almost hear them whisper-screaming "kill me."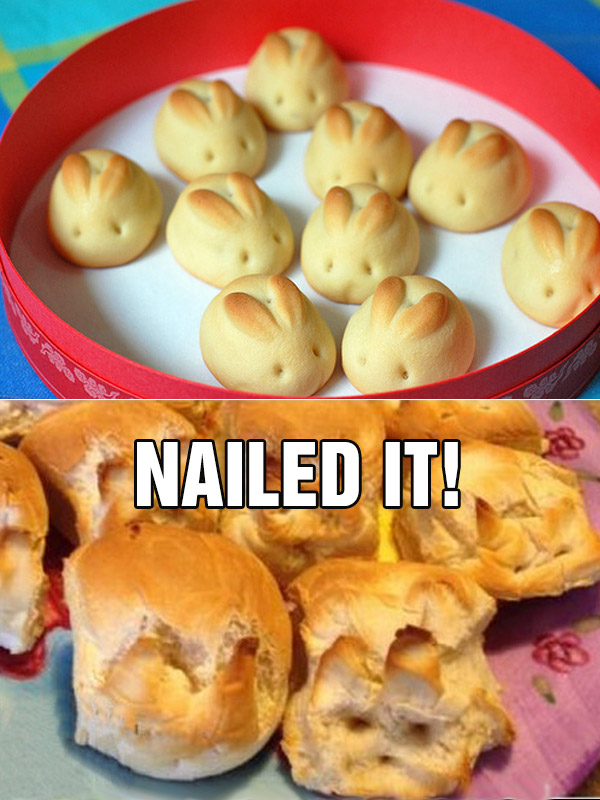 Inexpensive Priceless Holiday Photos
Photographers can be so dang expensive. Welp. You just found out why.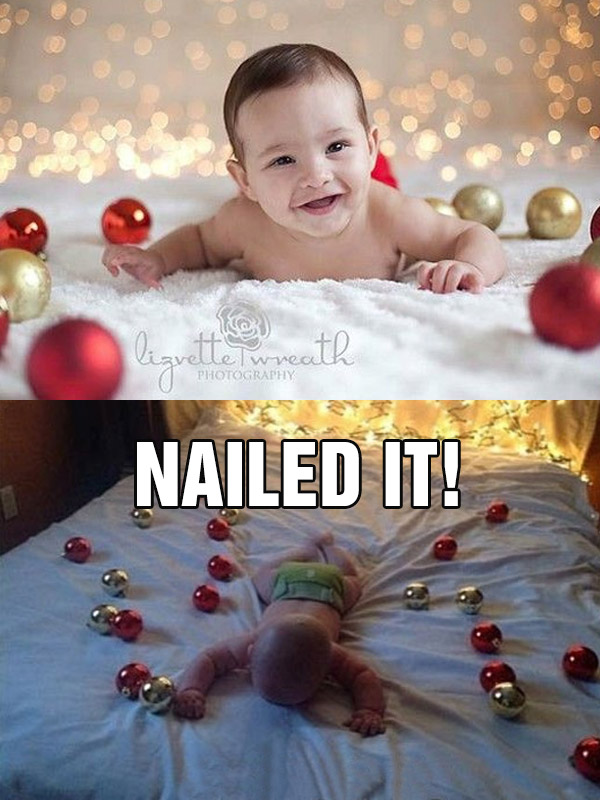 The Fine Art of Pancakes
It took like 30 seconds in the YouTube video! So yeah. Just tell people it's the evil god Cthulhu. Or a molar.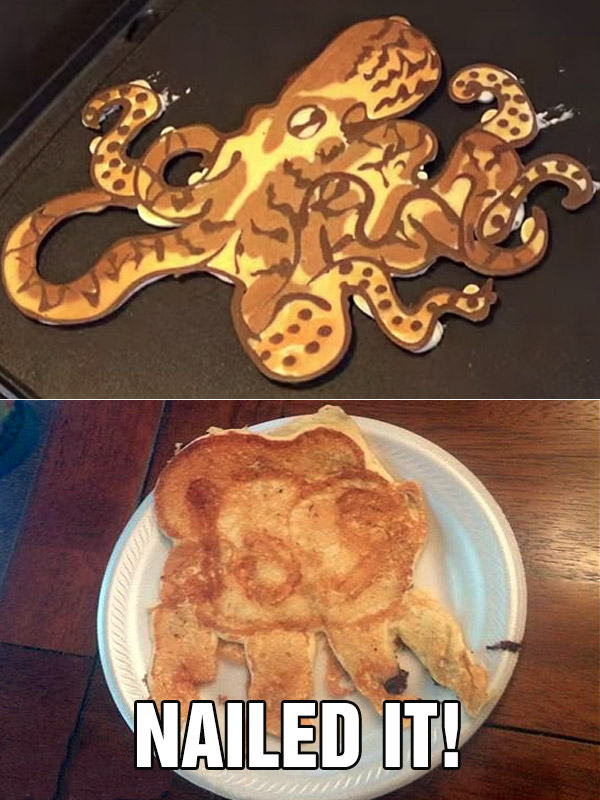 Pancakes Level: Mickey Mouse
After the Picasso cakes you just turned out, you thought you'd just dial it back a bit and go for something simpler. That's what you thought, at least.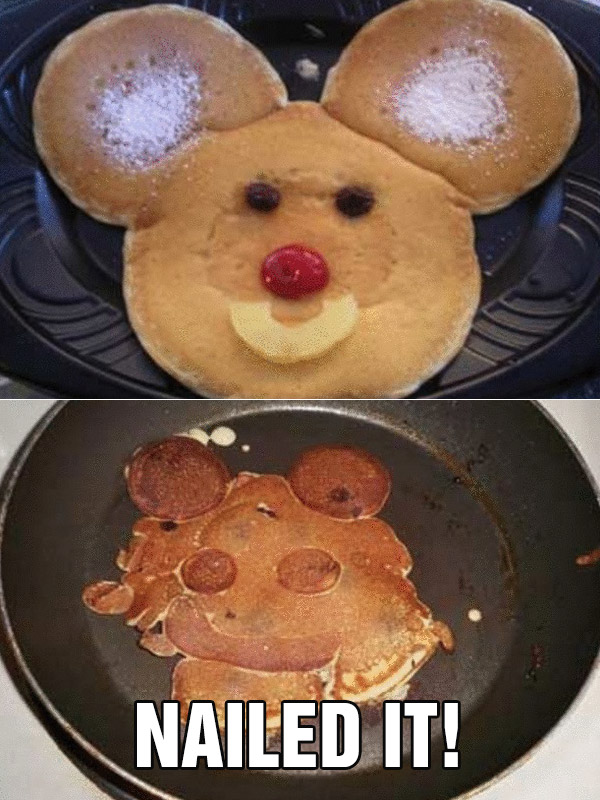 Taste the Rainbow
You've been disarmed of your pancake batter squirt guns and figured, "What could go wrong just using colors?" And you promptly found the answer to this question.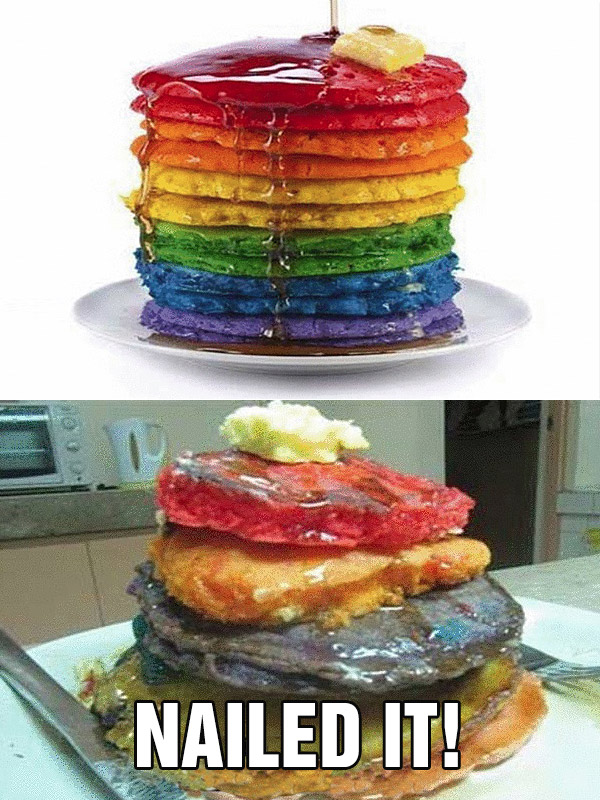 The Colorful Rainbow of Crayons
Not to be deterred, you stuck with the rainbow theme. Sadly, this rainbow looks more like a beauty pageant contestant after a bad break up.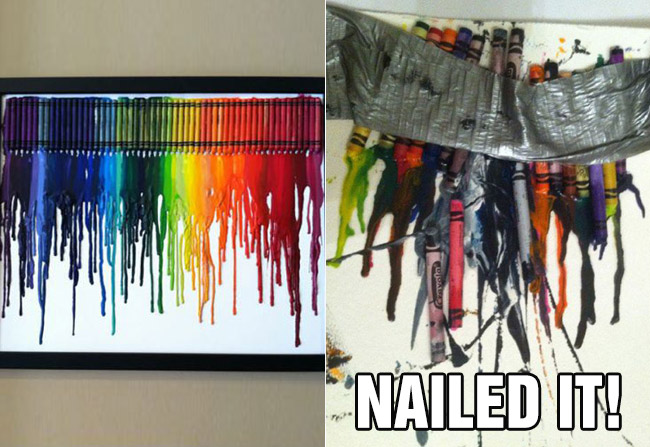 Dressed for Success
What about the basics, the everyday things you have to do? Yep. There are how-to's you can screw up for those as well.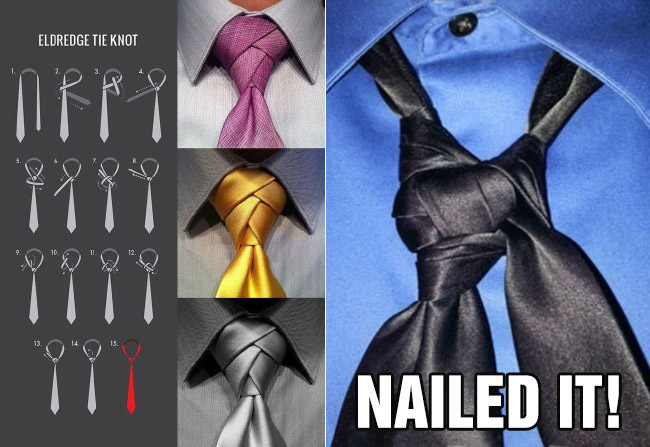 Deck the Halls
Holiday expenses can get hefty, and there's nothing like a home-made decoration. True, there is nothing like it. FAIL la la la la, la la la la.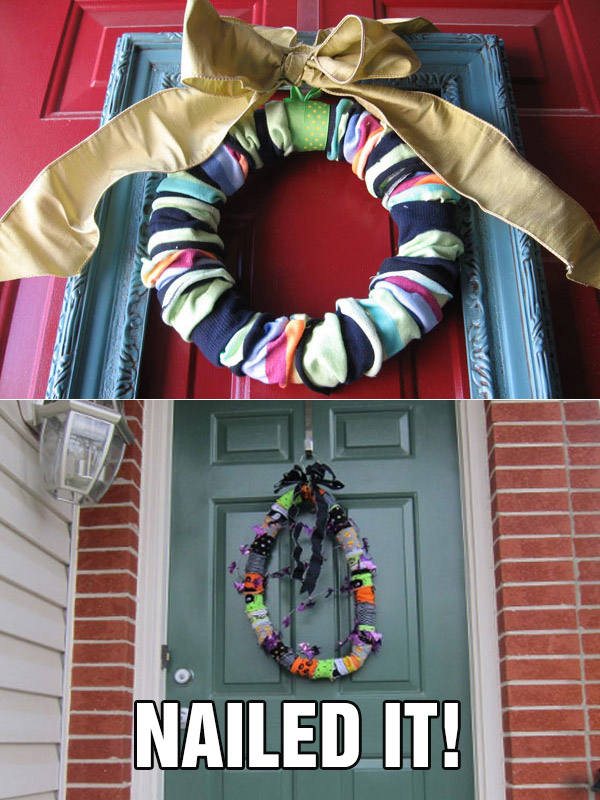 Santa's Little Helper
You can also try saving money with the gifts you give your kids. This one's the gift that keeps on giving! Giving nightmares and trust issues. For life.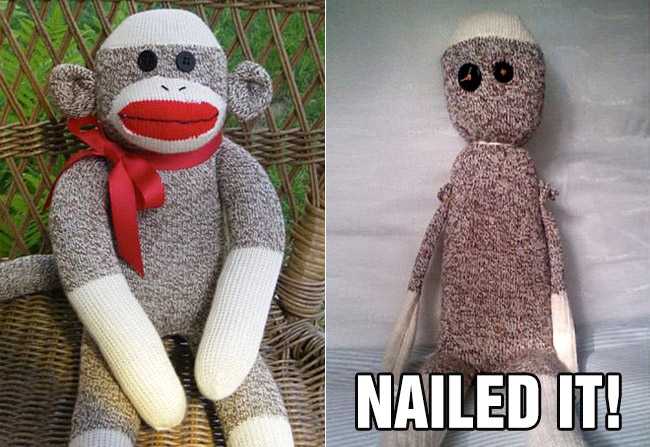 Some images by craftfail.com

In the age of internet inspiration projects and How-To tutorials on YouTube, it seems like there's nothing we can't do ourselves. Except for our total inability to do them, that sure can get in the way a lot.
It's hard to remember that these creations have been made by people who know how to bake, sew, glue and tie things. They've done it thousands of times probably.
Maybe we start a lot of these online how-tos with the hope that we can just skip the experience of baking and decorating thousands of cakes and still wind up with an Oscar the Grouch cake that doesn't look like someone threw up a shag bath matt into a garbage can lid.
And now for something completely different…