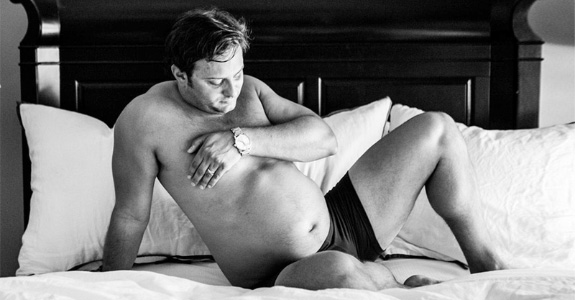 I've seen some touching, beautifully-captured photos of the rising dawn of a pregnant woman's belly. Apparently so has imgur.com user druishprincess69, who took pregnancy photos into his own hands… or um… his own belly. You see, when his wife said she didn't want to do maternity photos, he hired a photographer and posed for MANternity pictures himself (sorry for that one).
Feel free to put on Stevie Wonder's Isn't She Lovely in the background while you scroll through these magnificent pictures. I've added some commentary to the photo shoot for your added education/entertainment.
The contrast of a backlit silhouette can accentuate a baby bump majestically.
You can capture some cute and relatable moments with a favorite treat.
Hands framing the baby bump can add an air of warmth and closeness.
Go for a fun shot with heart-hands over a belly blurred with an artful focus.
A black-and-white makes for an instant classic. Add an architectural dynamic for added sophistication.
Awwwww, what's more delightfully sweet than Daddy kissing his unborn baby through Mama's tummy.
So beautiful. So touching. And I'm not just saying that because I really wish I'd done this. Hahahahahhahahahahaha!
Click here to see the full gallery.
–
Follow us on Facebook. For even more hard-hitting, parent-centric reporting like this!
Funny Parenting Pictures & Graphics
Parodies, funny graphics, joke infographics, and more nutty graphical fun!