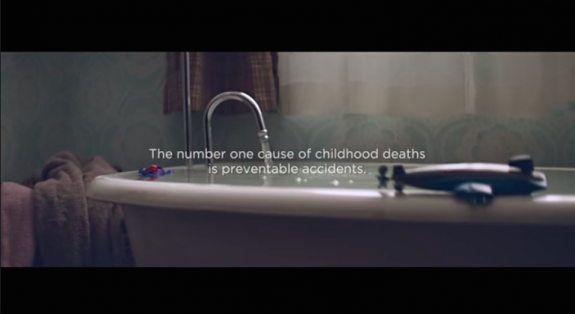 The Super Bowl was a bitter feud. We watched as two teams battled it out, yard by yard, to scrape together a hard-fought victory.
But the feud I'm referring to was between gameplay within me.
I'm not a huge sports guy. I watched for all the spectacular commercials, if I'm being honest, and one of them really shook me. Nationwide's "Make Safe Happen" was a manipulation of M. Night Shyamalan proportions. A little boy built up a narrative about all the challenges kids face in life, along their nostalgic journey toward adulthood and dreams fulfilled. But this little boy wouldn't get to do those things. None of them. Because he had died.
Am I supposed to put a spoiler alert for a commercial?
This little mini Kevin Spacey was talking to us from the afterlife, sans rose petal scene from "American Beauty." He crept up quietly from our parenting unconscious, from inside our parenting nightmares to try to make us quake inside. I felt betrayed by my own emotionality.
On the one hand, bravo to the filmmakers for making me feel something. You nailed the "creating a reaction" portion of the media checklist. But a huge double middle finger salute to Nationwide for coopting my love of my boys, and using that to, as they put it in a press release later: "Start a conversation." What a "no-backsies" way of thinking.
Sure, you could say "it was meant to do that" or some similarly pithy justification, but that just seems like a magician's technique. They make errors and angles become a performance of illusion. Nationwide will not save my child from being run over by a car. Further their statement of "starting a conversation" is downright ill-informed and poorly thought out. You want to start a conversation with me? Don't insult my intellect. If your spot isn't about selling your product' as you said in your press release, Nationwide, then why drop $4.5 million on a 45 second commercial to tell me about your brand. If you can protect my children from drowning, drinking chemicals under a sink and every other eventuality out of my control then why call it insurance at all? You're getting into the future forecasting biz.
I enjoy being provoked by art more than most. I have a strange tolerance for art and media that works for that purpose. It's a chance for art to instruct me about my boundaries and my safe thinking. But don't talk out of both sides of your mouth. You want me to feel something? Fine, but you better be smart about how you deliver. You want me to buy something. You ought consult my reality as a father who would give up everything for his children, and leave the emotional tyranny for relatives who blame you every time your kids gets sick.
I can't imagine how parents of children who've passed away must have felt watching that spot. Nationwide is on your side, right? Decidedly not. At the time of this writing the dislikes on their YouTube video are 2:1 in the negative column.
So, no, the conversation isn't about protecting our children and putting that in the forefront of my mind, Nationwide. You've tried to sell us a bill of goods using our infinite love for our kids to talk about your product with little thought for the anger that can accompany that love when we feel threatened or hurt. "Dead kids! Buy insurance!" is a mantra of emotional imprisonment for parents. And you just reminded people of the bars that surround them.
Well done.