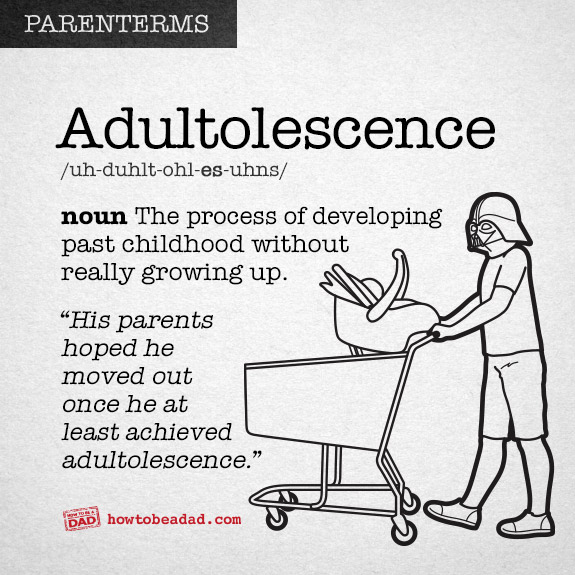 Adolescence refers to a person in the process of developing from a child into an adult, but the idea of what an "adult" is seems to have lost a lot of its former meaning. The more time marches on, the more it seems to skip and moonwalk, and we're entering an "Age" where men and women are boys and girls. Just bigger.
When you ask someone to hold your beer so you can lace up your high-tops, or you prop your baby in your lap so you can hold the gaming console's controller, or you use a backpack to store your tax receipts, well… you've probably achieved this new kind of maturity: adultolescence.
Don't feel bad, though. A hundred years ago, if you didn't have a hat or a bonnet on your head, people probably thought you might as well be waving a baby rattle.
–
Follow us on Facebook. Facebook is like the town square for adultolescents.
More Parenterms
When you can't think of the right word, maybe it doesn't exist. Make one up.
Instructional Diagrams
Enough of these pesky words! Picture time!