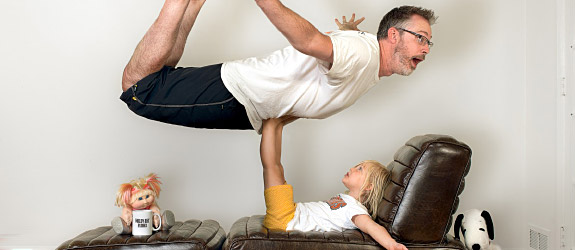 We tend to celebrate and poke fun at our insecurities, failures and doubts as dads on this website of ours, ironically named HowToBeADad.com, a place you can count on to never really tell you how to be a dad. At all.
So, it's no surprise that we love and wanted to share the brilliant photo series created by photographer and author, Dave Engledow, and his wife, called: World's Best Father. A tongue-in-cheek name for a series of photos depicting fantastical scenes of sleep-deprived cluelessness from a first-time parent of an adorable daughter.
Let's take a look at 15 photos from this brilliant series. Remember, the dangerous scenarios were Photoshopped (including the Twilight one), so don't freak out (at least not in an ugly, judgey way).
1. Bath Time
2. Bedtime Story
3. Never Look Away
4. Over the Top
5. Pressing Matters
6. Ballet Master
7. Language Lessons
8. Just a Little off the Top
9. Tea Party
10. Privacy
11. Eating Contest
12. Popcorn
13. The Artist
14. Negotiations
15. Airplane Ride
Genius.
Keep up with the latest and greatest (or "Best") from Dave Engledow by liking his Facebook Page.
You can also go buy his hilarious book, Confessions of the World's Best Father.
–
Follow us on Facebook. We promise not to tell you how to be a dad their either.
Instructional Diagrams
How NOT to be a dad in picture form.