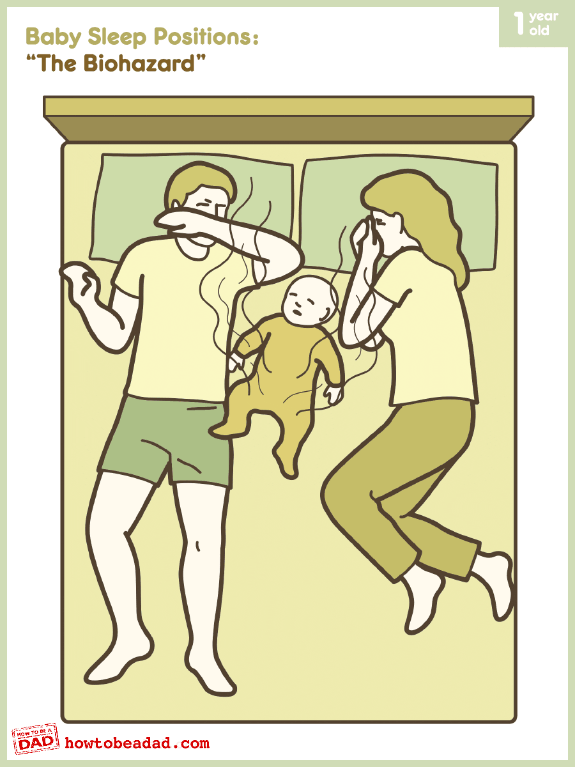 People with a little baby are never "awake" or "asleep" in the black-and-white senses of the words. Parents exist in the gray area between. The varying degrees of "trying to sleep" and "fighting to stay awake." You're always on call. Waiting.
Ready to respond.
It's very late. You're asleep, or wrestling the ninja crocodile that sleep seems to have become. It doesn't matter, there's an emergency coming.
The alarm may come as softly as an odd warmth, though it's not a fire. An early warning is more likely to come to your nostrils, turning your shallow breathing into nauseated cough gags, but it's not a gas leak.
And if nothing else, it'll certainly be the wailing siren of your baby belting out an opera of fussing and crying, propelling you up to discover what's the matter. You'll find this out pretty quick, your little cutie patootie has dropped a P-bomb in their diaper and now you need to dismantle it in the low light of the wee hours, in your fully prepared but also fully sleep-drunken state.
A baby's digestive system waits for no one and obeys no clock. No matter how late it is, any hour and any minute are fair game for the biological warfare of a dirty diaper bomb. It's a good thing they're just so ridiculously amazing and lovable.


–
| | |
| --- | --- |
| | Our Guide to Baby Sleep Positions book may just be the gift that makes some parents you know piss-laugh when they really need it. Like when they've been thoroughly covered in their baby's piss. Or something else. It's a great gift for expecting parents, new parents and parents that are covered in things. Buy it on Amazon! |

–
See All the Other Baby Sleep Positions
The Neck Scarf, H is for Hell, The Booby Trap, The Donkey Kong… So many more. TOO many more.
Want More Instruction from Diagrams?
You may need to wear adult diapers for these.
Follow us on Facebook. At least you don't need to change diapers on Facebook.