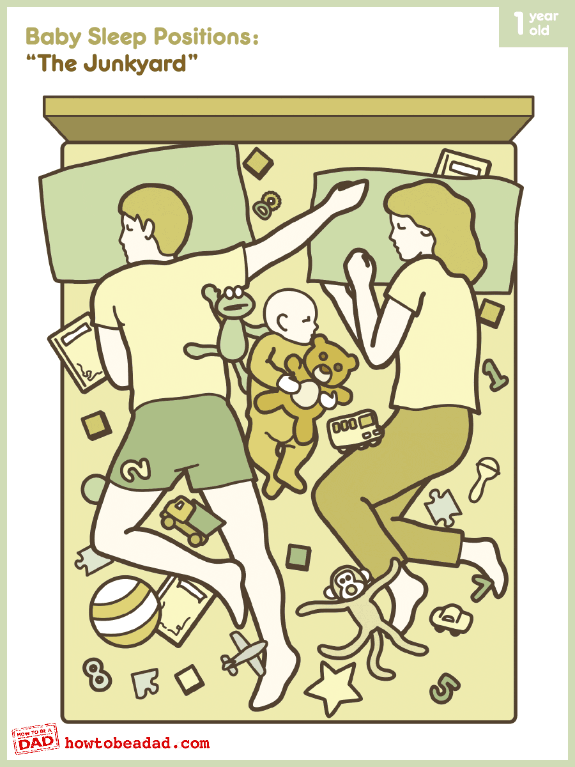 From the beginning of parenting, sleep becomes a bit of a half-remembered dream, one that you daydream about while staring vacantly at a wall as you overfill a coffee cup. Everyone with mini humans knows this, but there's also a point in the condition known as parenthood when the toy infestation begins.
At first it's just big, fluffy, unswallowable things with no sharp edges. In a matter of a couple of years, though, it tends to escalate to an all-out, housewide toydemic. The good news is, by this point, not having slept in over two years, you just won't care.
Scientist aren't really sure why we require sleep, but 11 out of 10 are sure that we can become so tired we don't care if we fall asleep fully clothed, even if our clothes are on fire. So, in comparison, toys in the bed are literally and figuratively child's play.
It's probably best to invest in a some steel-toe house slippers, or a good snow shovel to plow a path to the bed. Try to avoid passing out on anything really hard or covered in angles. You'll thank goodness for this advice in the morning.


–
| | |
| --- | --- |
| | Our Guide to Baby Sleep Positions book may just be the gift that makes some parents you know piss-laugh when they really need it. Like when they've been thoroughly covered in their baby's piss. Or something else. It's a great gift for expecting parents, new parents and parents that are covered in things. Buy it on Amazon! |

–
See All the Other Baby Sleep Positions
You'll probably recognize most of these sleep positions. Hopefulyl not ALL of them, you poor bastard.
Want More Instruction from Diagrams?
These are like toys for your eyeballs.
Follow us on Facebook. Like every surface in a kids room, it's loaded with fun junk.