Driver safety is something you probably thought you'd never have to revisit after narrowly passing your driver's license test, right? Wrong. Aside from texting or messing around with your phone, there's a vast number of things that people shouldn't need to be told not to do while driving but seem to need to be told anyway…

Dramatic Reenactments of Dramatic Enactments of Dramatically Distracted Driving
1. TAKING A NAP
Parenting is tiring, but taking a nap in your car while it's moving leads to extended naps 6 ft. under the dirt. Don't drive tired, folks. Napping on benches and office chairs is the hot new non-lethal sleeping trend. Some even master the ability to sleep on a stranger's shoulder while standing in line to get their caffeinated beverage of choice.

DO NOT SLEEP WHILE DRIVING!
2. OFFICE WORK
Those emails just can't wait, right? Your boss may be delighted you're a mobile command unit capable of all-out corporate warfare from the comfort of your commute, but answering emails before you get to the office just makes you look desperate. Don't give in to company peer pressure.

DO NOT WORK WHILE DRIVING!
3. BITING YOUR NAILS
Personal hygiene seems to be a common theme while driving. Picking your nose, doing your mascara and flossing are all amateur moves. Putting a little piggy in your mouth is the pinnacle of stupidity, and grossness. If you don't crash while pulling this stunt, you'll probably send other drivers swerving off the road to get away from you.

DO NOT DO CHEW YOUR TOENAILS WHILE DRIVING OR EVER!
4. DOING YOGA
Driving can be peaceful and meditative, but it shouldn't be combined with Yoga. Upsidedownward facing sloth is our favorite move, because it requires the practitioner's full realization that driving while distracted means you lack enlightenment. Namaste becomes NOmaste when you're in a car, people.

DO NOT DO YOGA WHILE DRIVING!
5. CHANGING COSTUMES
You aren't Lady Gaga or Cher or Madonna. If you were, you wouldn't be driving because someone else is paid to do that sort of thing. If you're one of the rest of us, any wardrobe change in the car is a wardrobe malfunction. The encore is best performed at home.

DO NOT CHANGE CLOTHES WHILE DRIVING!
6. TWERKING
Talk about a wrecking ball. This is the fastest way to go to jail. Especially if you do it driving. Reserve your embarassing dance moves for the privacy of your own home or in nightclubs where people have probably had enough to drink to withstand your poetry in motion.

DO NOT TWERK EVER!
If all of this looks ridiculous, think about how you look when you do distracting tasks like eating a burrito while navigating a stick shift, or taking a call about driver's education for your young teenager.
Why are we telling you this, besides the fact that we'd rather see people coming back to our site rather than seeing them on national news as someone who broadsided a school bus while they were playing an intense game of Jenga on the center console of their car? Because we partnered with the caring folks Progressive Insurance to raise awareness for DRIVE SAFE TODAY Day (9/3) and just plain ol' sane driving every day.


Sign the Pledge
You're not committing to anything other than driving safe and showing your support for better, safer driving.
Join the pledge, GO HERE!
Visit the website to learn more, GO HERE!


Join in the Drive Safe DON'TS Jamboree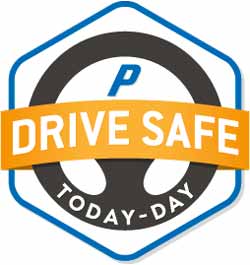 Spread the word by posting your own suggestions for the absolute stupidest and most insanely unsafe things a person should never do while driving.
Tell your friends about Drive Safe Today Day online with your own wacko distracted driving DON'TS. Use the hashtag #drivesafe and post your promise to drive without distractions!
Click here to spread the word on Twitter or share this post! Let's all be safe for at least one day together.
–
Disclosure: We've teamed up with Progressive for their Drive Safe Today Day initiative. Although we've been compensated for this post, the thoughts and ideas and stupidity are our own.