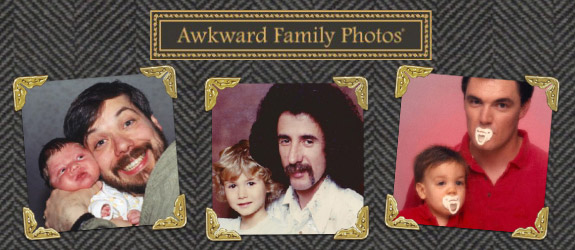 Pictures are worth a thousand words, but awkward pictures are worth a thousand awkwards.
You've probably seen some of the pics from our friends at awkwardfamilyphotos.com, but you're missing out if you haven't seen the hilarious titles, captions and backstories that go with the crazy photos.
Their site is like the Smithsonian of utterly terrible family photos, and they have it all broken down by category. We were delighted to discover they have a DAD section. Here's a sampling of 15 hilarious pics…

Rise And Shine


The burden of fatherhood.

She's Got Pull


Enjoy the ride.

A Message For Dad


Sorry, Dad. You'll have to wait until June to get some love.

Just The Facts


"This is a photo of my sister (the murderer), my brother (the reporter), and my Dad (the victim). The way I've heard the story told, as I was still a few years from being born, they lived next to a reporter for the local news channel and one day, my dad decided it would be funny to stage this picture…complete with "blood stains" on his back. The back of the picture actually says, "Just the Facts, Ma'am, 8/01/75."

Up A Creek


It's a beautiful thing when a father and daughter can share a moment like this.

GOAL!


"At a family birthday party, I thought I would do the fatherly thing and play a little soccer with my daughter. As I approached her to try to steal the ball, she sent a rocket in my direction. I was okay after writhing on the ground for a few minutes. We switched to football for the rest of the afternoon."

Boo


His cry sounded so much like a laugh.

Semi-Formal


The cleaners lost his shirt.

Freeze Frame


Question is… how did the baby make it to the top of the pile?

The Family Business


You can never start passing on your knowledge too soon.

Recycled


This is what happens when you forget to take out the trash.

Sleepyhead


Never fall asleep on the job.

Baby Bjorn


Here's to the man who always knows how to improvise.

Potty Training


You're never too old to learn.


Beauty Sleep


She was the apple of his armpit.
–
You'll probably never be able to harshly judge bad photos of you or your family and friends the same way again.
Check out all the awful goodness on awkwardfamilyphotos.com
You could spend days on their site. Wow.
Keep up with Awkward Family Photos on Facebook.
Your Facebook feed needs just this kind of funny.