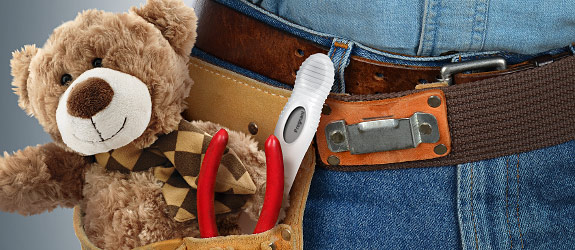 Every dad has experienced that moment when they got "the news" they were going to have a baby.
But everyone's story is different. Reactions and emotions can be as varied as a snowflake, or as similar as a pair of socks. Some feel the elation of being given a powerful, beautiful gift while others feel the weight of duty enclose around them like some futuristic robot suit. Some laugh, some cry, some stare dumbly at nothing for a little while. A glimpse into your foreseeable future can be a beautifully chaotic and intense moment.
Whatever a man's response was to "the news," he goes from being himself to being a father-to-be, or in other words: a dadchelor.
Baby showers have been around for a long time, but dadchelor parties – the chance to say goodbye to your child-free days – are a new thing. We've partnered with Mike's Hard Lemonade because we know that unless you're really a new dad, you probably didn't have a chance to enjoy one of these new man parties with your friends prior to changing your child's first diaper. Together, we are offering you the chance to win a $100 cash giftcard to have your own belated-dadchelor party.

THE CHALLENGE
HowToBeADad.com and Mike's want to know YOUR dadchelor story (or your baby daddy's story, if you're a mom)! Use #dadchelor and #mikeshard on Twitter, Vine or Instagram to tell/show us how you celebrated the news of your first child. Post your unique dadchelor moment, whatever it was!
HOW IT WORKS
Just tweet of post your moment using the hashtags #dadchelor and #mikeshard on Twitter, Vine or Instagram, then use the Rafflecopter entry system below to tell us where your entry lives by pasting a link. You'll then be entered to win one of four gifts cards care of mike's hard lemonade to host your own belated-bachelor celebration.
THE #DADCHELOR GALLERY
We'll post your entries here! Get posting!
The time I heard my son's heartbeat is my #dadchelor moment https://t.co/HqwjgdAp4d @HowToBeADad #mikeshard

— DadCAMP (@dadcamp) August 21, 2014
We posed for a couples selfie holding the positive test, then went to watch Les Mis in Sarasota for my birthday. #MikesHard #Dadchelor

— Carter Gaddis (@DadScribe) August 21, 2014
My #Dadchelor moment Just voted in 2008-had our election drinking game shot glasses ready-received the call-drove off the road #mikeshard

— Steve Grams (@YourSocialHotel) August 21, 2014

That moment I realized I was going to be a dad. #dadchelor #mikeshard
Found out I was going to be a dad at the crack of dawn by a crying Wife holding a positive preg-test. Greatest moment #dadchelor #mikeshard

— Papa Does Preach (@Papa_Preaches) August 21, 2014
My #Dadchelor moment. #mikeshard pic.twitter.com/skop7bYNzy

— John Willey (@DaddysinCharge) August 21, 2014
Found out I was going to be a dad two days before leaving for a big trip. Didn't stop smiling for weeks. #dadchelor #mikeshard

— TheJackB (@TheJackB) August 21, 2014
Best part about finding out I was gonna be a dad at work was hearing everyone elses stories #dadchelor #mikeshard @HowToBeADad

— PixelatedDad (@nick_BTG) August 21, 2014
We found out after coming home from a family member's funeral.We laughed, we cried, & we smiled.It truly was a miracle #Dadchelor #MikesHard

— Robert Loftus (@Askagreatdad) August 21, 2014
Found out my wife was pregnant w/ our first child 2 days after she was laid off. Best bad news of my life. #dadchelor #mikeshard

— Chris FtB (@fromthebungalow) August 21, 2014
–
Disclosure: Mike's Hard Lemonade wasn't hard to work with and we thank them for supporting us with this sponsored post. If you'd like a private dadchelor party dance, just let us know. Andy is available for bookings.