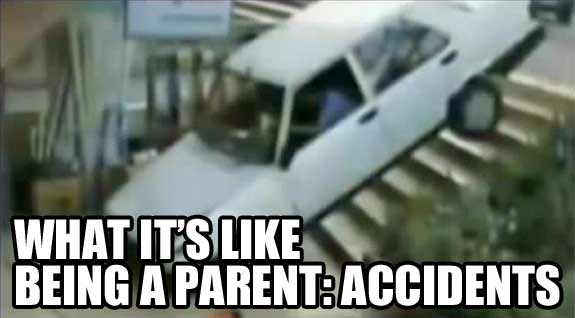 Last week, we talked about getting kids to eat and what that's like. Or when they try to feed you, which is basically like this:
But today, I want to talk about what it's like trying to protect your newly-minted thingperson from hurting themselves. I've talked before about how it feels like my testicle ovaries hurt when I think my sons are about to hurt themselves. But today, I want to show you an objective example of how we feel watching them narrowly avoid certain death.
Here's what it's like…
And there's no amount of baby-proofing that can prevent all injuries. Unless you plan on rearing a perfectly healthy child in a rubber bubble, then you will experience full-contact life. That, my friends, is the way the
–
What It's Like Being A Parent: Part One
Let's start from the beginning. It's a real treat.
Follow us on Facebook. Or we'll fall all over you.