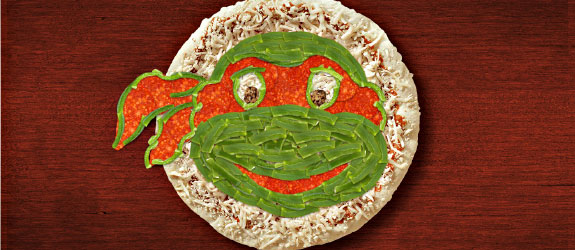 I have been designing pizzas in my mind since I was a very little boy living in San Francisco. While everyone else was eating macro-chaotic, mega-veggie, orange peel pizzofu or whatever, I craved the real deal.
Finn had an idea to make this little video. Such a rad, little writer!
You see, my childhood heroes were turtles who ate pizza and practiced martial arts. I had goals. Pizza was an art, a sport, a way of life. And when I grew up, I knew that I would be able eat whatever I wanted, however I wanted. Lots of pizza the way I wanted it made.
I'm now a father with two boys. I eat what I want, when I want, more or less, but my pizza creativity has suffered. I no longer design pizzas in my mind palace. I am also married. My wife likes different toppings than I do, and my son is an incredibly picky eater. I felt lost…
But all that has changed!
We decided to partner with DiGiorno® to help me find my pizza renaissance, getting back to a Golden Age of pizza designing. Their Twitter feed is amazing. Their pizzas are crowd-pleasers (especially if you have a busy family or just a family of college students). And the fact that they wanted to work with us means they're crazy… in all the right ways.
To help me on my quest for family Pizzavana (that's pizza nirvana for the amateurs out there), DiGiorno has not only created a set of ready-to-make pizzas that come with a special kit of toppings, they have made a rad pizza designer where you can "make" and "bake" your own designs. Here is the one I did with Finn (I EXPECT YOURS TO ROCK):
Next week, we will be sharing our experience creating our very own, unique pizza masterpieces. But until then, I want you to go try out their designer and make sure you tag us, post a link to it or email it to us so we can put it here. We want to see your masterpiece. Because in our next post we'll unveil some awesome creations. It's like Masterpieces of Pizza Theater up in this club.
Because it's not delivery, it's DiGiorno. It's DiGiornery. It's a full-blown Pizzaissance!
HALL OF FAME:
Tweet, Instagram and Vine us your creations!
Hey @DigiornoPizza & @HowToBeADad ! Here's my Design A Pizza™ #Masterpiece. Delicious! http://t.co/laeYzMejcS pic.twitter.com/SzS0M6ndtw

— The Rock Father™ (@therockfather) July 2, 2014
"Failed it!" @HowToBeADad & @DiGiornoPizza This didn't go so well as the Mickey Mouse Clubpizza. pic.twitter.com/MKTDz8ScFG

— Just a Dad 247 (@justadad247) July 3, 2014
@HowToBeADad "The Death Pizza" pic.twitter.com/veQEbPnQdS

— DorkDad (@dorkdaddy1) July 2, 2014
@DiGiornoPizza y'all hiring? This is the best thing I can give as a job application pic.twitter.com/ZeNpA4rNTf

— Jason Waterfalls (@iEatFatKidsFood) July 1, 2014
.@extratv CONGRATS YOU CRAZY CATS! Gotcha a lil something pic.twitter.com/PBmyqsTJCI

— DiGiorno Pizza (@DiGiornoPizza) June 24, 2014
Disclosure: This post is brought to you today by DiGiorno®, the Willy Wonka of Pizzas. This post is my own opinion and my crazytalk doesn't necessarily reflect the opinions of DiGiorno®. But seriously someone hired me to write about designing, baking and eating a pizza. It doesn't get much cooler than this.