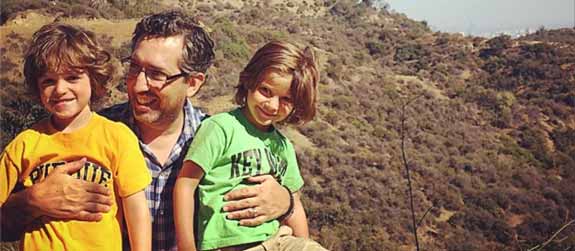 The other day, I took my boys on a treasure hunt — an actual hunt for actual treasure. And as we crisscrossed Hollywood on the trail of [REDACTED], we naturally discussed aliens. Well, one alien in particular… Let me explain.
In the film Earth to Echo, a group of kids discover a mysterious life-form and embark an epic adventure that tests their friendship as they try to outrace government agents who want the creature. Thankfully, we did not have Feds on our tail during our quest, though my sons Wyatt and Boone kept pointing to a [REDACTED] that seemed to be following us.
The characters in the film receive a strange visual message on their mobile phones, which they use to locate the titular Echo. This is essentially geocaching. Geocachers hunt for a treasure of some kind hidden by another geocacher using geographic clues to track it down, typically by employing a special app or GPS coordinates. So, we went on an Earth to Echo-inspired geocaching adventure.

Subscribe to our YouTube channel, CLICK HERE!
The first clue sent us to the roof of [REDACTED], which offered amazing views of the city. We had to find [REDACTED] and enter the [REDACTED] into my phone to get the next clue. From there, we raced to the incredible [REDACTED] to locate the [REDACTED] of [REDACTED] who invented the [REDACTED] [REDACTED]. I, for one, had no idea [REDACTED] happened in L.A. So, in addition to a fun outing, our geocache hunt helped us learn new things.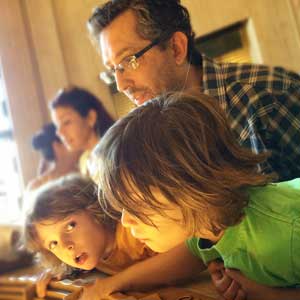 After we unlocked the next clue, we made our way to the famous [REDACTED] to find a special [REDACTED] at the corner of [REDACTED] and [REDACTED]. My boys especially loved finding the [REDACTED] and asked if [REDACTED] [REDACTED] [REDACTED]. That unlocked the next clue, which sent us over to the [REDACTED] to find a [REDACTED] with a [REDACTED] on it.
That final clue unlocked the reward, a [REDACTED]. My boys were stoked to have accomplished what proved a challenging and joyous trek around town. Boone even said the real reward was "that we had fun and love." (I did not coach him to say that, honest.) And we may not have saved an alien or outsmarted Federal agents, but we did have to talk our way into [REDACTED]. So, there's that.
We went ahead and left out all the spoilers so you too can head out for your "Earth To Echo" geocaching adventure. Otherwise, we would've been chased by [REDACTED] all the way to [REDACTED].
You can watch a group of friends go on an incredible journey, not unlike ours, in Earth to Echo when it opens July 2, 2014. Get in on the action on Facebook, Twitter, Tumblr, et al. And follow other families' geocaching adventures in other cities with #earthtoecho or simply [REDACTED].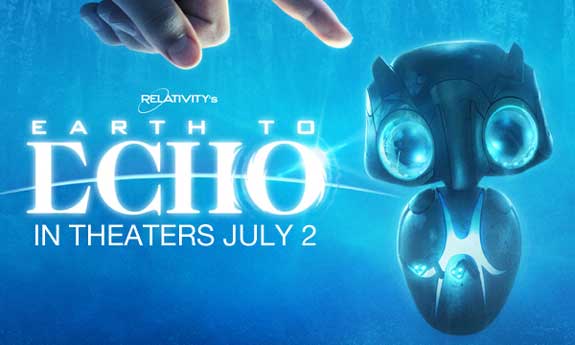 ABOUT GEOCACHING:
Geocaching is a family-friendly activity that allows parents and kids to go outdoors to explore new locations around their city. Geocaching is a game of discovery, where adventure seekers can use an app or GPS on their mobile devices to search for cleverly hidden containers placed in nearby neighborhoods.
To learn more about Geocaching and participate in the Earth to Echo Adventure, click on the custom URL for your city. Try this fun family-friendly activity this weekend, and find out if there are EARTH TO ECHO treasures hiding in a neighborhood near you!
New York: https://labs.geocaching.com/goto/echogeocachingny
Los Angeles: https://labs.geocaching.com/goto/echogeocachingla
Chicago: https://labs.geocaching.com/goto/echogeocachingchi
Seattle: https://labs.geocaching.com/goto/echogeocachingsea
For the latest news and updates on the film, be sure to like EARTH TO ECHO on Facebook and follow the film on Twitter. Please find additional information and assets attached below, and feel free to share your geocaching adventure with us using #EarthToEcho.
Disclosure: It was an awesome experience to get outdoors with our kids. Though Relativity Media did compensate us for this post, the views in it are entirely the work of a deranged madman named David Vienna. Though we haven't met any aliens yet, we love adventures and movies. And fun. "Earth to Echo" is worth the ticket.