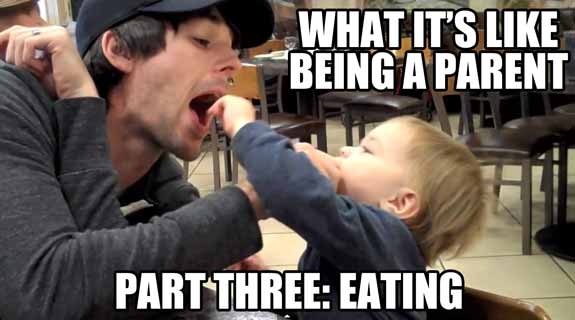 Last week, we covered the lack of privacy you get to experience when you create life. It's like that new life has one goal: interrupting yours.
But today, I want to talk about what it's like to try to feed that new addition to your family. Eating, and the process of preparing for consumption, is one of the most time consuming and soul-sucking things about being a parent.
Here's what it's like…
Their First Foods are Often First Fails
Then They Get Wise to your Game
Trying the "Let Your Kid Feed You" Tactic
They grow older and have "opinions" about food
And at dinner, for the rest of your life, you're like…
But then they do stuff like this and you forget everything…
If you get asked what it's like to be a parent, I suggest sharing this post to give them a peek into the parenting world. Or just show them a list of rules so they know better.
–
What It's Like Being A Parent: Part One
It's a real treat.
Follow us on Facebook. We won't come find you in the bathroom. OR WILL WE?