We sit bobbing in the pool like pale apples waiting to be plucked. My son is crying into his flotation device and I am expectantly staring at him. This is not going as well as I'd hoped.
"This game is boring and dumb. I hate it."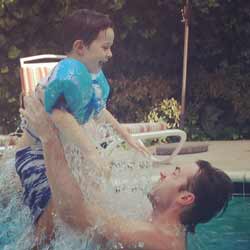 He's over it. I'm treading water, literally and figuratively, as I try to respond to his statement. He just sits there sulking. We're facing an inflatable hoop in the center of the water and a couple of plastic balls float by when I finally muster up a few words, "Do you want to learn how to win?"
Finn is in this very charismatic stage of needing to win at all costs. If someone beats him in a game, it's either tears or teardown. The winning thing seems to be a harmonic of sharing issues, too. I've noticed poor sharers and sore losers tend to be one and the same, but he's working on the sharing aspect. Games just aren't much fun when he gets into this frame of mind.
"Do you want to learn how to win, Finn?" I say it again as earnestly as I can. I want him to win, I really do, and while I don't know what I'm going to say when he says "yes" I certainly want to help him learn. This, right here, is the crux of all parenting: teaching children to do something we may or may not have any idea how to do. We are chipping away at bad habits with love and guidance. We are fighting our own demons to free our kids from theirs, present and future. It's a treasure hunt with no map in the middle of the night, sometimes.
"Yes, I wanna win. I don't like to lose," he says sheepishly. We look at each for a moment recognizing the strength it took for his confession.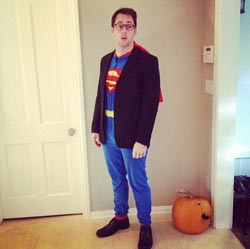 The look of a winner-dad.
"Then you need to learn how to lose, buddy."
He looks at me like I've just told him that I gave away all of his Lego sets. "Finn, losing can teach you how to win. And when you lose like this, you aren't learning and the game isn't fun anymore."
I don't want to bombard him with crazy theoretical concepts, but my son needs to know that there's value in losing so it doesn't seem totally worthless. I hate losing, myself. I'm INTENSELY competitive about trivial things. Instead of telling him "it's okay to lose" (which I know some people reading this would go ape shit over) and conceding completely, I feel like this might be a good road to go down. But Finn rejects the idea, which in itself shows he's at least listening to me.
"But I hate to lose."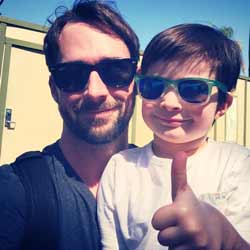 I know he does. I do, too. Something about the perfectionism in our culture's desire to exceptional has never sat well with me. I want to do great things but I hate failing. I grew up with teachers who told me I was failing them. I was also told, by my instructors, I had the handwriting of a serial killer and I should work with my hands, so that should shed some light on things.
"I don't like losing either, Finney. But to win you might have to work very hard. And I will always help you as much as I possibly can because I want you to learn and win. Even when you lose."
He picks up the ball and throws it toward the hoop. It's a complete miss. But it's okay because we're both losers just trying to learn how to win, and no one is keeping score.
–
Follow us on Facebook. Join our collection of losers. Because when you lose with us, you win!
Here are some more rules for parents…
No one needs rules… except these!