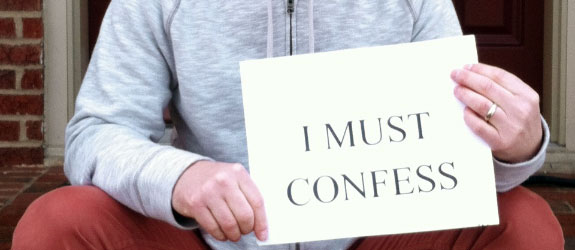 Bless me child for I have sinned. It's been your lifetime since my last confession and I feel like I need to come clean. I have lied to you, stolen your property and coveted your dinner, as well as your youth.
I am your father, but I haven't always been a parent. I used to be just like you. I was an immature, unorganized mess of a human being skating on the edge of a downward spiral. But you made me. You made me a man who is responsible for another, and then three others.
There are four of you children and I confess that I am not always truthful about who I am and how I get by. There are things that I must do, discretion that I must make to get through my days as a parent. I will not share all of my secrets, but I will shed some light on some of what you do not know.
So here are the first 25 confessions that come to mind.

1. I had sex with your mother in your bedroom long before it was your bedroom, but the memory still lives there.

2. I pop your balloons when you are at school.

3. I throw away your drawings, but I have saved every birthday card that you ever made for me.

4. I am the Tooth Fairy and the Easter Bunny. However, Santa Claus is real.

5. Calliou has always been our go-to babysitter when Mom and Dad need some adult alone time. Because of that Calliou's theme song kind of turns me on.

6. I am not as strong as you think I am.

7. I blamed my farts on you when you were a baby.

8. I have nicknames for you, the kind of nicknames I can't repeat in public so I won't.

9. I wouldn't drink out of your glass for one million dollars.

10. I steal the quarters out of your piggy bank.

11. I have a favorite child, but it just changes by the day. So don't ask. Unless you like playing Russian roulette.

12. I sometimes wish I were eating your chicken nuggets and mozzarella sticks rather than my spinach and fish fillet.

13. If you are looking for a Lego piece that you cannot find then you should stop because I threw that shit out weeks ago.

14. The half-hour before your bedtime I am not listening to a word that you're saying because I am thinking only of a glass of wine.

15. I know that it is you who is putting boogies on the wall.

16. I take your excess Halloween and Easter candy and leave it on the break room table at work. And I don't even like those people.

17. I only like to play with you when you let me make up the rules.

18. You are a better student than I ever was. By far! It's not even close.

19. I watch you in your sleep.

20. I eat your sugar cereal after you go to bed.

21. I kind of like it when you wake up in the middle of the night and get in bed with me.

22. I fantasize over having an empty nest.

23. I have essentially met all my current friends through you. Without you as my crutch I am something of a social midget.

24. I consider you my best friend. However, you'd rather hang out with your best friend Christian.

25. I lose sleep over your future. Sometimes it's all I can think about.
---
| | |
| --- | --- |
| | Kevin Harris is a part time blogger and full-time working dad. He is a father of four and a husband to one very, very understanding woman. Find his self-deprecating posts at My Pathethic Blog, and follow him on Facebook. He is currently working on his first book Meet the Buzzkills, a Fatherhood Survival Guide. |
---
–
Following us on Facebook is something you won't have to add to any confession you ever write. Hopefully.