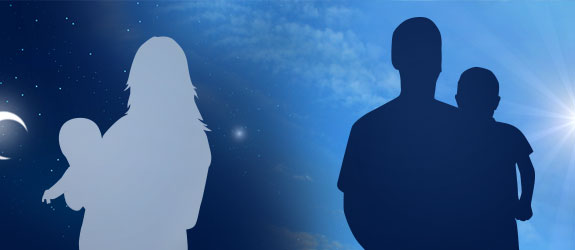 Growing up, the thought that my parents weren't married didn't really change my life. Sure, we went to my grandparent's church a couple of times and I wasn't allowed to eat a special cracker, but they loved each other.
That was good enough for me.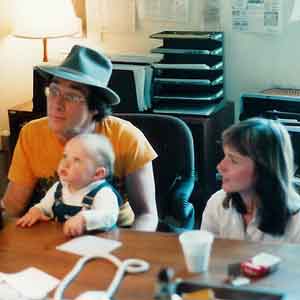 I was seven years-old when they broke up. It didn't occur to me that they weren't married then either. They had me and my younger brother together. They owned a home together. They fought together like any of my friends' married parents did. And it hurt when they weren't together anymore, just as much as a child of any married couple.
My mother raised two boys on her own. No child support. No help. She went on to become one of the most influential people, dare we say women, in radio. As a parent, and now father of two, my mind is blown.
These past three weeks, now with two kids of my own, I am in the midst of understanding her like I've never understood anything in my life. When I am home, I'm always with one of my sons. When I am at work, I ache to be home with them. When I am asleep, I am not actually asleep. At all.
Look at that arm. I was a prodigy at throwing tantrums.
Having two kids, based on my limited experience so far, I feel more like a single parent at times. My wife and I are on full-time man-to-man defense. One kid is crying, the other is pooping. One kid is sleeping, the other is banging on the piano. It's not double the work. It's more.
I don't mean to diminish the intense rigors of actual single parents. Quite the opposite. When I had one child, I thought parents of two kids or more were superheroes, objectively. I thought to myself, "I can barely handle one kid. How the hell do they survive?" But single parents don't even get that luxury with multiple children.
In a two parent household, like we have now, we cover one kid at a time. It's sometimes lonely. I miss my wife. We had just started getting back our time together as Finn matured. But now, we wrestle in a tag-team competition with two matches going at once.
I've gotten a few emails and comments asking why I don't write more about my mother. In part, it's because I believe she deserves her privacy. She is still in the public eye whooping major ass, as ever, in her career. Perhaps, I write about my dad more because he was more complicated and absent than my mother was for me. She was a provider, protector, magic-maker, teacher, guide, inspirer and nurturer. But mostly it's because a father and son have a different set of work to do on each other.
The empathy I've gained for single parents through the lens of my newborn son and my history of growing up with a single mother can't be overstated. I am temporarily living a parallel lifestyle to one that is under-appreciated and misunderstood greatly.
So, be singularly helpful to your single parent friends. They deserve it.
–
Follow us on Facebook. The best way to stay connected to our brand of madness.