Disclosure: This post is brought to you by the masters of personal cleansing comfort, Cottonelle. To see how Cottonelle Toilet Paper and Cottonelle Flushable Cleansing Cloths can practically change the destiny of your bum, click here.

By the time we begin to have kids, we've been pretty thoroughly acquainted with the act of "tidying up" after ourselves after we've gone Number Twosies. When a little one arrives, though, this familiarity goes into hyperdrive. As if all of the self-sanitizing we've done so far was simply training for the never-ending bodily cleanup duties we'll have to perform as parents.
It can get to be a pain in the butt, sure, but it shouldn't literally be a pain. As you can see in this Instructional Diagram, Mother Nature never really did a stellar job of providing humankind with a very comfortable means of separating us from the animals when it came to bodily functions, so we should count ourselves lucky that we've come so far in the science of wiping.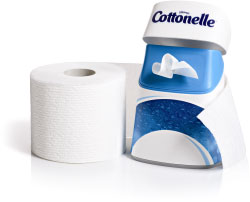 Go home, uncleanness. Game over, unfreshness.
There's no holographic app yet, and we still don't have the flying cars the '50s promised, but we're getting a lot of the comfort of the future already. Cottonelle has developed a flippin' system. By also using Cottonelle Flushable Cleansing Cloths along with their toilet paper, you've pretty much won the whole feeling clean and fresh business. After all, nothing leaves you feeling cleaner and fresher than the Cottonelle Care Routine.
–
Cottonelle Wants to Talk to You
When it comes to your bum, there's a lot to talk/tweet about.
The Most Compelling Reason for Good Wipe Equipment
Examine this chart of underwear skid marks. Wipe responsibly.