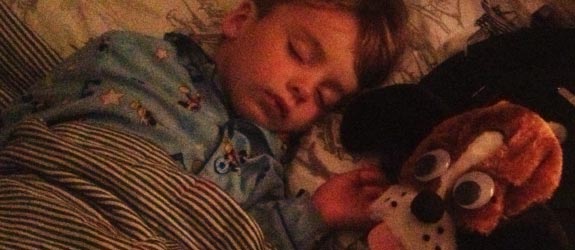 When the question of whether we should get a family dog or cat came up, I admit I pinched the bridge of my nose and sighed a little bit. Okay, a LOTtle bit.
I've had a Beastmaster level of family pets. Mammals, reptiles, birds, amphibians, fish oh my! I even tried to keep captured insects as pets, but they died so fast it's uncertain whether they counted as pets, or prisoners on some bug death row with no waiting list.
We've got three kids. As much as I'd like for my littlest to experience a family pet, it just seems like there's enough playing, feeding and bodily functions to go around.
So!
I had a crazy idea.
Let me explain. I'm a nerd who's still waiting for the release of an iPhone that's also a hoverboard, and my wife is a cleanoholic who stares daily into the endless void of laundry, dishes and vacuuming. I headed out, not to the local pet store, but to Best Buy. Though they seem like they sell just about everything, they don't sell pets. Well…
They had the next best thing: an iRobot Roomba 770!
I punched air holes into the box to properly simulate the new pet experience. And also because I'm probably insane. If the raised eyebrows on my wife's face are anything to go by.
Cool! But not cute. Yet! I put on a puppy face with googly eyes, attached a tail, set it on the ground and pressed "Clean."



I know I wasn't expecting it to pee itself or start humping a chair leg, but I honestly wasn't expecting it to just start working. My lad's eyes and mine were matching sets of delight. My wife's were wide but I don't think it was with what one would call delight. I hugged her to my side and said, "What? Look at 'em go!"
I was hoping for a name like Roombo or Rover-2D2 or something, but my littlest named him Fluffy. He says it's "Fwuffy da wobot dog," so you could pretty much melt s'mores over the cuteness.
It's not like I save lint balls from my pocket as treats for the cute lil' guy. You can't prove anything.
Also?
We just hit Best Buy again for another "family pet." This one was more for me. I never loved a cat so much.
We haven't settled on an official name yet, so we're just using Mr. Keurig K45 Elite McAutomatic or simply "the life nectar machine." My 4yo son loves making it go pee pee (making my coffee). I don't know if I'm in love with this way of putting it, though.
As I sip a yummy cup of ::ehem:: coffee and stare at myself in our clean floors, I wonder if maybe I'm doing something weird to my kid mentally, but then I remember Teddy Ruckspin and Furbies.
Sure, he won't be able to play a terrifically interactive game of fetch, or experience the ecstasy of a wiggled laser pointer, but I rest assured that I'm probably stimulating his imagination and definitely preparing him for when humans need to learn to live in peace with robots and coffee makers.
Maybe we'll do pets that lick themselves later.
–
Get Your Own "Family Pet" at Best Buy
They've got all loads of options. You'll have to go somewhere else for the animal faces and tails, though.
Want More Animal Shenanigans?
Here's more of our stuff of the subject of critters.
Disclosure: This post is brought to you by the rad folks at Best Buy. To learn more and find great deals on small appliances that do big things, visit BestBuy.com/DoBigThings.