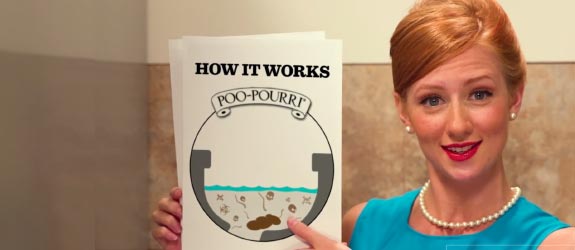 There's this rumor that keeps hanging around these days that's as stubborn as the worst toilet skid or unflushable floater. There's all this crazy talk about women, get this, POOPING! Ha ha! Priceless! I bet Santa Claus and the Tooth Fairy are riding unicorns as they laugh their asses off at this. EXCEPT FOR THE FACT THAT THEY DON'T EXIST! Just like woman poop.
Now that we've established that when women need to "drop the kids off at the pool" it's only actual children at actual areas of aquatic merriment, this video should be even funnier.

Created by Poo~Pourri.
We gentlemen tip our hats to this fictitious genius. This hilarious monument to mythology. Imagine if it was really a real product for reals. Like for reeeeeeals reals. If girls did indeed poop. Hah! Craziness, right?
What? What did you say? You say it is real. They do. Heh heh. Yeah right! What? Stop. No! NO! NOOOOOOO!!! ::plugs ears with fingers:: I'M NOT LISTENNNNNING!!! LA LA LA LA LA LA LA LA LA LA LA!
–
Follow us on Facebook. Women don't poop on Facebook, right? Just lie to me okay!
Baby Poop?
Might as well laugh, it's like gagging with sound.
Underwear Skid Marks?
You may even shart yourself looking at this.
Farts?
Okay. I'm noticing a pattern forming here. I'm even smelling it a little maybe.