I recently discovered some "urban art" my 4yo son made on the side of our house and posted a picture of the two graffitied characters. It sparked an idea.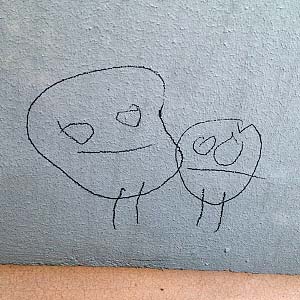 I'd like to think it's me and my son, except he doesn't look too thrilled.
I'd always wanted to do a comic strip, so the idea of collaborating with my littlest son seemed perfect. Also, his drawings would evolve intriguingly as his style progressed and changed from potato people faces; to root vegetables with full sets of stick-figure limbs; to walk-like-an-Egyptian hieroglyphic characters; to full-blown, professional 3D figures with fire swords and capes and… okay, wherever he wants to go with it. Or not go with it.
So far I've only had to pay him for his art in toys and proud head scrubs (cheap labor). He did beam when he saw this first one finished, though; and he can't even read yet. Maybe that's a good thing.
–
Follow us on Facebook. The forecast is always partly funny with a chance of hilarious.
Instructional Diagrams
My own growed-up drawrings.