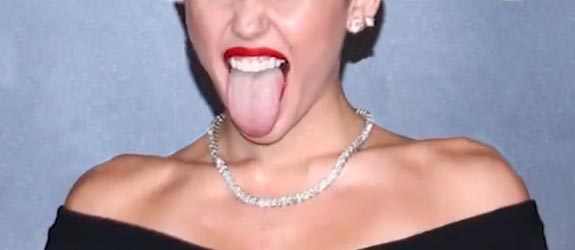 Ms. Cyrus,
You don't know us. We are dads over the age of seventeen, and as such we do not represent your target demographic although we are in the midst of raising some of your constituents. We (still here), unfortunately, are more or less invisible. That is on society, not you. However, our children, assuming we would ever let them listen to bubble gum pop music, are well within the warm confines of your audience. They watch TV. They like to dance. They have giant foam fingers (there's an ointment for that). They know what's up.
The other night many kids tuned in to the Video Music Awards (VMA) on MTV, which, apparently, still exists as a thing, in hopes of being entertained. They wanted to see their favorite artist, Robin Thicke, whom, we can all agree, is an upstanding role model for young children to emulate, what with his catchy ode to the importance of proper eye care ("Blurred Lines"). They were ecstatic when he joined you on stage—Two Chainz, Kendrick Lamar, and a chorus line from Built Barez Workshop (is that right?) were just icing on the proverbial cake. It was joyful pandemonium, and we couldn't think of a more appropriate show for our children to watch on a Sunday night at 9pm! After all, they did have school in the morning.
That is when it happened. You had just revealed your pseudo-birthday suit, which, we thought, was an inspiring way to remind kids about the dangers of sun exposure, and then you started twerking, as one does. It happened quickly, and then it happened again.
And again.
In fact, it happened so often that we lost count and instead of watching it unfold we turned to our crying children, begging them to cover their well-cared for eyes with their awkward foam fingers.
But it was too late.
You stuck your tongue out. Repeatedly.
Now, thanks to you, we have to explain to our children the dangers of sticking one's tongue out, and why, when running, playing, or twerking, they should wear a fitted mouthguard (or a helmet) to prevent any number of mishaps—the potential for chapping one's lips, biting their tongue, or placing it firmly in cheek is undeniable and dangerous. The VMAs was supposed to be a family show, but your blatant disregard for mouth safety turned it into some sort of orthodontia farce. MTV deserves better than that. We all do.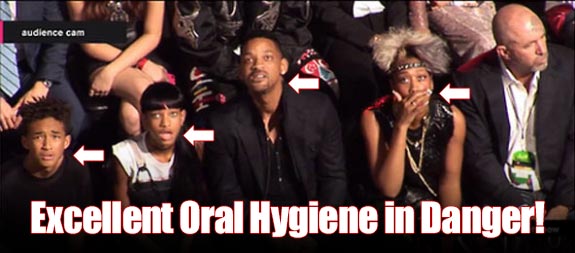 This afternoon, on the way to twerk lessons, we stopped and bought a dozen mouthpieces—one for every child in the class. That is how sure we were that they would have seen your questionable behavior and, as children are prone to do, copy it.
We only have one stick of lip balm and their twerk recital is on Thursday. They have practiced too hard to risk it all now.
"Daddy," they said. "Why would Robin Thicke let her do that? Doesn't he care about tongue injuries, lip dryness, or oral hygiene?"
This was a conversation that we weren't ready for. Sure, we knew it was coming, but not at this age. Not this young. Not yet.
We took a deep breath and said, "Apparently not."
That look, at that moment, on their faces, was so overwhelmingly heartbreaking that it stopped us mid text. We drove the rest of the block in silence. Robin Thicke deserves better, too.
The world is very different today, and the children know it. That, Miley Cyrus, is on you.
Thank you for your time,
Whit Honea, Charlie Capen, and Andy Herald
---
| | |
| --- | --- |
| | The father of Atticus and Zane, Whit Honea is a writer, producer and recreational twerking instructor whose first name phonetically tells you everything you need to know about him. You should follow his Facebook page and his blog, Honea Express! Also, he has a book coming out in January, so that's cool. |
---