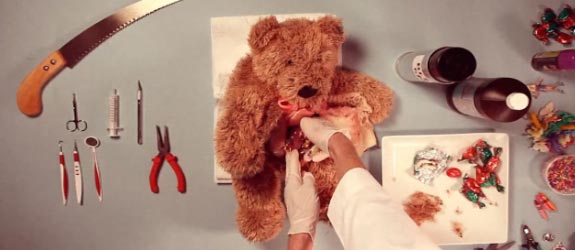 So little is presently understood about the anatomy and physiology of stuffed animals. Advances in the subject have for a very long time been stifled by the social sigma placed on anyone who dissects toys or stuffed animals; branding them as "emotionally unstable" or "weird."
Thankfully, progress is now being made. Let's have an amazing look at a modern-day operation on a teddy bear to get a glimpse of the amazing advances being made in stuffed-animal veterinarian medicine.


This bizarre brillance was created by: ZeFrank.
Subscribe to ZeFrank. The ridiculous number of genius viral videos makes his YouTube channel a must-subscribe. He is amazing.

Things are looking up. While still controversial, proper diagnosis of a stuffed animal's crotch-unicorn has recently become broadly recognized for its large role in the proper treatment of teddy bears (and other animals). Now when our kids come to us and tell us what emo jerks their plush play pals have been, parents can nod a little more knowingly.
–
Following us on Facebook is like a medical procedure… In a good way.
Instructional Diagrams Promote Good Teddy Bear Health
It's true and no one can prove otherwise.